Omologato to partner Mahindra Racing Formula E team
The Mahindra Racing Chronographs by Omologato
Omologato, the motorsport-inspired timepiece brand, is to become an official partner of Mahindra Racing's Formula E team. The partnership is to begin at the next Formula E race, which will be held in Mexico City in the beginning of April 2017.
The partnership between Omologato and Mahindra Racing is a multi-level one. To begin with, Omologato branding will be a part of the M3Electro. In addition, Omologato branding will also feature on the driver's gloves. Omologato clocks will be present in the Mahindra garage at Formula E events, while team members will wear specially designed chronographs. There's more. Omologato and Mahindra will tie up at the Chronos and Cars events that the watchmaker organises.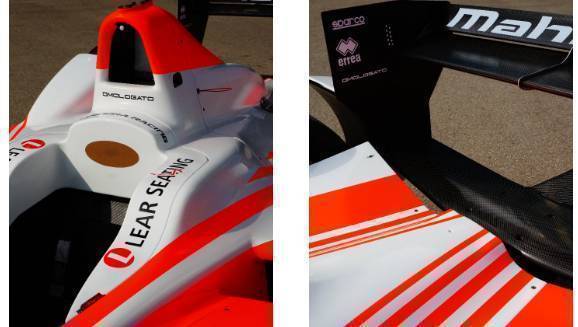 Omologato branding will feature on Mahindra Racing M3Electro
Meanwhile, the Mahindra Racing Chronographs that Omologato has designed are available for pre-order on the Omologato website. Available in two colours - Mahindra Racing Red, and Black Edition - the watch features "key design elements from the Formula E car. The case is made using surgical grade stainless steel, hand assembled and packaged beautifully in a robust leatherette case. The bespoke straps are made of the highest grade and ethically sourced leather or there is a Mahindra Racing Red PU Silicone rubber option." The watches are priced at approximately Rs 16,180 plus postage and packaging charges. The Mahindra Racing Chronographs also come with extended battery life, a nod to the sport of Formula E which is all about efficient utilisation of battery power.
Speaking of the tie-up, Omologato's founder, Shami Kalra said, "We are delighted to become an official partner of the Mahindra Racing Formula E team in one of the world's most forward-thinking sports. We welcomed the challenge of designing these special timepieces for the team to take to iconic cities across the globe. One of our aims at Omologato is to give motorsport enthusiasts the chance to feel immersed in motorsport, either through our chronographs or our #ChronosAndCars events. This exciting partnership will give Omologato fans the opportunity to get closer to the Mahindra Racing Formula E Team."
Meanwhile, Dilbagh Gill, the team principal of Mahindra Racing's Formula E outfit stated, "The Omologato brand is highly regarded in the motorsport community and we both share the same passion for delivering exciting motor racing and heritage to fans across the globe. We look forward to engaging with fans at Omologato events and having Omologato on our cars at the next race in Mexico City."