Ok Play reveals wide range of electric vehicles in India
Ok Play, a company specialising in the production of plastic products has unveiled a wide-range of electric vehicles in India at the ongoing BV Tech Expo and India E-Vehicle Show in Delhi. With e-rickshaws, e-vending carts, e-mobile shops, e-loaders, e-garbage collectors, e-school buses and e-scooters, Ok Play has become the first company to reveal such a large range of completely indigenous electric vehicles in India.
Ok Play first started off in 1988 as a manufacturer of plastic water tanks and later diversified into various streams and became the market-leader in roto-moulded plastic products like toys, school furniture etc. Ok Play also manufactures various plastic products for the automotive industry like bus seats, fuel tanks, hose pipes, windscreen wash tanks etc. With a clientele including Ashok Leyland, JCB, Tata Motors, Bajaj Auto, Scania, Daimler, Volvo, Mercedes-Benz and BMW just to name a few, it is safe to say that Ok Play could turn out to be a formidable player in the market.
Ok Play had first entered the e-vehicle segment in India back in 2015 with the launch of the E-Raaja, an electric rickshaw. Now, alongside the reveal of the entire range of electric vehicles, Ok Play claims to have made several improvements on the E-Raaja based on customer feedback.
Ok Play claims to have developed the other EVs after understanding the needs of the market. The company has launched -- e-loaders with a capacity of handling loads up to 350kgs, e-vending carts that are intended to be used by vegetable/fruit vendors, e-shops that are larger versions of e-vending carts, e-garbage collectors with a hydraulic system to load/unload garbage bins, e-school bus to transport children to school safely and a range of electric two-wheelers.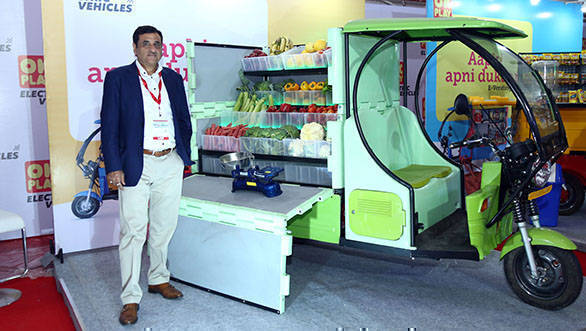 Ok Play has collaborated with a few companies across the country to help in manufacturing these electric vehicles, in Kolkata, Guwahati, Ahmednagar, Surat, Ranipet and Kurukshetra. Four more such collaborations are in the process of being set up. With a monthly production capacity of 1000 vehicles at each of these facilities, Ok Play claims to have the capacity of manufacturing and delivering up to 20,000 vehicles a month.
The electric commercial vehicles will be launched at a price between Rs 1.25 and 1.50 lakh, while the pricing for the electric two-wheelers has not yet been revealed.
Related Stories