OD Rewind: Top 10 memorable stories of 2016
We, at OVERDRIVE, are continuously striving to bring out the best automotive articles. At times, our stories are about important events or announcements, a drive to a fascinating location, spending a day or weeks with exotic machinery or comparing automobiles to reveal which one is worth your money. In our quest to achieve this, we end up travelling the length and breadth of our country. More often than not, we thoroughly enjoy ourselves while working on these fascinating stories. In fact, we all believe that we have the best job on the world.
What makes our day is when readers reach out to us telling us how much they loved reading our stories and the pictures as well. However, every year there are few stories which turn out to be memorable for us as well as for our readers. Although this list could have been a lot longer, we tried our best to keep it short.
1. Independence Quattro Drive 2016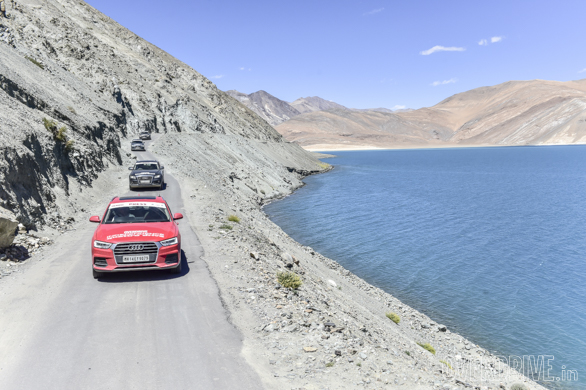 This year too, we gave a few lucky readers a chance to 'Live Life in OVERDRIVE'. They joined us on an exceptional drive from Chandigarh to Ladakh in six Audi SUVs. The convoy comprised of two Audi Q3, two Audi Q5 as well as two all-new Audi Q7 SUVs. The fourth edition of the Independence Quattro Drive was a fantastic adventure which took us to one of the highest and most famous battlefields on the planet. And this time, we hoisted the national flag on Independence Day at the Siachen base camp. Click here to read.
2. Mercedes-Benz Starstruck 2016
In the third edition of annual Starstruck drive, we aimed to find the most pristine night sky in our country. And we did, by driving up to the Indian Astronomical Observatory in Hanle village which is located deep in the Himalayas. We began our journey in Chandigarh where seven of our lucky readers joined us for this trip. The most memorable part of this trip was staying at the special campsite in Hanle from where the Milky Way was clearly visible. Click here to read.
3. The stress test
We all know that commuting in a big city is not only tiring, but sometimes it can get really stressful. Things can end up getting worse for the driver. So much so that stress induced by driving during rush hours is killing us. In India, there wasn't any focus group study which monitors driving-related stress and its effect on us. So, we decided to find out how much do the different factors contribute to stress while driving in what we call the urban jungle. Click here to read.
4. Eco: mode or gimmick?
In India, there are around 40 cars which come equipped with an Eco button. Manufacturers claim that that button activates the Eco mode which improves fuel economy. We decided to find out if that actually happens. So, we took four cars from different segments and body styles and tested them under identical conditions to get the best results. We drove each vehicle twice, on a 75km route with an average speed of around 70kmph - once with the Eco mode and once in regular mode. Click here to read.
The Mustang has seen the Bonneville quite a few times. It has been there innumerable times in pursuit of setting speed records. However, this time things were a bit different. Our editor-in-chief, Bert took the Mustang GT on a solo round trip from Los Angeles to Bonneville. Needless to say, he made proper use of the motor's 447PS and 542Nm of torque to set his personal speed record on the road leading up to the Bonneville salt flat. Later, he even drove into Death Valley! Click here to read.
6. Affordable Hot Hatchback Track Test
Hot hatchbacks offer an alluring mix of performance and practicality. They appeal to the driving enthusiast in us, and owing one won't end up straining the finances either. Currently, we have 10 such hatchbacks to choose from. The icing on the cake is that they all cost under Rs 10 lakh. But which one is the most fun and the best. The Kari Motor Speedway was the battleground chosen by us. Click here to read.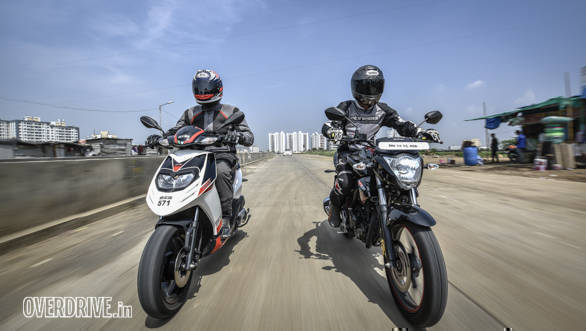 The Aprilia SR150 is a breath of fresh air in the automatic scooter segment. It's unlike any of its peers which is a good thing. It is sporty to look and ride as well. It has a loud exhaust and its 154.8cc engine delivers power rapidly. The firm suspension coupled to a new underbone frame and grippy tyres makes it fun to ride around bends. It is priced around Rs 11,000 lower than the Suzuki Gixxer, the current king of the sporty-premium 150-160cc motorcycle segment. Which one delivers more fireworks? Click here to read.
8. TVS Himalayan High Season 2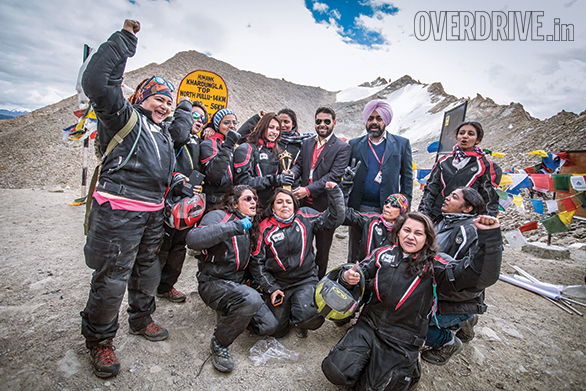 The girls of the TVS Himalayan Highs Season 2 receive the certificate from the India Book Of Records. From left, Pallavi Fauzdar, Antara Pal, Gauri Kapur (sitting), Megha Chakravorty, Anam Hashim, Shruti Naidu, Surbhi Tiwai (sitting), officials from the India book of records, Trupti Sarmalkar (sitting), Kainoor Mistry, Roshni Sowkumar (front, sitting) and Ebronah Dorothy
11 lady riders from different parts of the country created history by becoming the biggest group of women to ride to Khardung La, the world's highest motorable road, on their 110cc Scooty Zest. Their 10-day ride earned them an entry into the India Book of Records. And joining them on this historic journey was Team OVERDRIVE. While everyone was getting breathless at the top of the mighty passes, the Zest was at ease. It was oblivious of the high altitude and challenging terrain. We even rode to Nubra Valley and back to Leh after crossing the Khardung La for a second time. Click here to read.
The Royal Enfield Himalayan was one of the most awaited motorcycle launches of 2016. At Rs 1.79 lakh (on-road, Mumbai), it is also priced attractively. And the pricing is in the neighbourhood of the KTM 200 Duke and the Mahindra Mojo. The 200 Duke makes the same peak power as the Himalayan. In comparison, the Mojo makes as much peak torque as the Himalayan. Power and torque figures aside, which one is the most balanced among the three? Click here to read.
Until now, if you were looking for a performance hatchback that is genuinely fun to drive, the Mini Cooper S was your only resort. The Volkswagen Polo GTI is the newest entrant in this space. Although both make the same amount of power, the Polo GTI is significantly cheaper. Between them, which one is the better deal then? Click here to read.
Price (Ex-Delhi)
Starts Rs 32.48 Lakhs
Price (Ex-Delhi)
Starts Rs 58.93 Lakhs
Price (Ex-Delhi)
Starts Rs 79.99 Lakhs
Price (Ex-Delhi)
Starts Rs 74.62 Lakhs
Price (Ex-Delhi)
Starts Rs 38 Lakhs
Price (Ex-Delhi)
Starts Rs 44 Lakhs
Price (Ex-Delhi)
Starts Rs 6.17 Lakhs
Price (Ex-Delhi)
Starts Rs 1,72,749
Price (Ex-Delhi)
Starts Rs 2,01,000
Price (Ex-Delhi)
Starts Rs 1,11,871