Norton Motorcycles to go into production soon to clear pending orders, confirms TVS Motor Company
TVS Motor Company has already started working on its plans to get Norton Motorcycle up and running. The company will be resuming operations at Norton Motorcycles from its Donington Hall estate for the next six months. During the same period, TVS will be building a new plant in the UK which will be the new facility for the design and development of existing and upcoming motorcycles from the British brand. Sudarshan Venu, TVS Motor Company Joint MD, has also confirmed that the present focus will be to start production and deliver the pending 300 motorcycles for which the customers have already paid a deposit for. The detailed plan of when will the deliveries of these motorcycles will start and the time period to clear the pending orders will be shared by the company shortly.
In the acquisition of Norton Motorcycles, TVS has received all the IPs to the brand and products which includes Commando, Dominator, V4 and some of the upcoming products, mentioned Venu. The design and development of these motorcycles will be done in UK, where TVS' partnership with Warwick Manufacturing Group (WMG) will add value as well. Sudarshan also stated that the whole focus will be to make sure the premium quality that Norton has always been known for is retailed to its respective customers.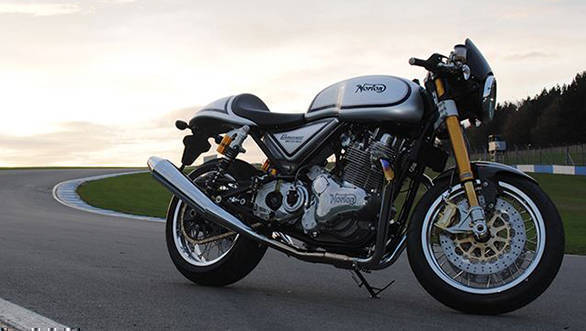 The Norton 961 Cafe Racer gets a traditional, double-cradle / double-downtube frame supports the engine
In the past, the Brit brand has entered into an agreement with Chinese manufacturers Zhongshen and Jinlang to manufacture the all-new 650 and 961 parallel twins, wherein the 650cc will be powering the Atlas Ranger and Nomad motorcycles. Sudarshan confirmed that the right to develop the whole portfolio of Norton Motorcycles as well as its distribution rights now resides with TVS Motor Company. When asked if TVS will be offering warranty and service to the existing customers of Norton, Sudarshan pointed out, the acquisition does not take any of the company's past liabilities but is looking for  a plan to work out for its existing customers worldwide.
Also read.
Opinion: TVS and Norton? All that you should know.
Price (Ex-Delhi)
Starts Rs 20,99,000