Next TVR to use iStream manufacturing process
Who is TVR?
In the history of the automobile, some manufacturers stand out for their bold, often insane creations. Cars that are built solely to excite and don't mind stepping out of the box of normalcy in the quest for something unique, something the sets the pulse on fire. British firm TVR takes a prominent place on that list, having produced some of the zaniest sportscars of the modern era. Big power, lightweight, rear wheel drive, a lack of driver assists and a healthy dose of fear was the recipe TVR used to make legends like Griffith and Tuscan. TVR however, has been through a painful history, trading multiple ownerships since its inception in 1947. It appears to have found some stability in its current owner, British businessman Les Edgar who bought the ailing business from Russian Nikolai Smolensky in 2013.
The 2006 Sagaris was the last car TVR built
After an extended period of silence, TVR announced in the middle of 2015 that it was working on a new car, one they promised would be high performance and all-British. The confirmed facts we have so far are that the car will be front engined, rear wheel drive and feature a manual transmission. Power will come from a 5.0-litre Ford V8 that will be tuned by Cosworth and feature dry-sump lubrication. Both coupe and convertible forms will be on offer. TVR promises breathtaking performance and looks that are true to the company's DNA and heritage. By that, you can expect a pin sharp, scary fast sports car with unique and intimidating looks. A face that would scare even its mother.  
The Tuscan was one of the most iconic TVRs of the modern era
Then, months of silence again, until yesterday when TVR declared that that it will be using the revolutionary cost-effective carbon-fibre manufacturing process called iStream by Gordon Murray Design. Yes, the same Gordon Murray who designed the legendary McLaren F1 road car and pioneered the use of carbon fibre on the Brabham F1 cars of the 1970s and early 80s.

TVR head, Les Edgar with Gordan Murray at the signing of the agreement
What is iStream?
iStream is essentially a manufacturing process that claims to drastically cut down the otherwise prohibitive manufacturing costs associated with working with composite materials like carbon fibre. In simple terms, iStream uses what Murray calls an iFrame, a new idea for a car chassis that is composed of large diameter, thin walled steel tubes that are formed, laser cut and profiled all under the precision of computer control. These metal tubes are then welded together with the structure meeting at all structural hard points like suspension, seat powertrain and battery mounts. Thin pieces of fibreglass are then sandwiched over a honeycomb structure to create strong but light panels that are bonded to the frame. GMD claims that this architecture is strong enough to easily pass current crash norms while helping reduce the weight of the average supermini by upto 200kg. That's a massive weight loss and allows smaller engines and lighter components like brakes and suspension, all of which lead to lower emissions.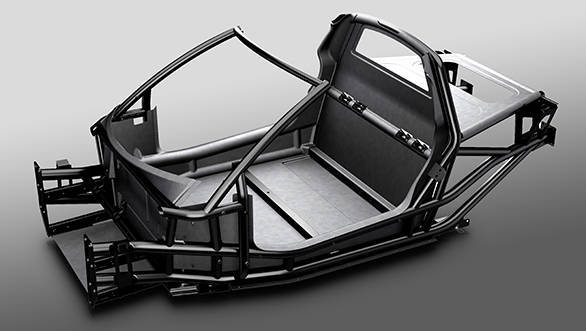 Gordon Murray's iStream process uses a chassis made with steel pipes and bonded panels made of fibreglass or carbon fibre
 Taking it a step further is iStream Carbon, a fully mechanised process for the use of composite materials like carbon fibre. This system uses two carbon fibre skins sandwiched over a honeycomb structure. This system is superior over the time consuming and costly hand crafted manufacturing process that goes into production supercars that use a single carbon fibre skin.  GMD has been working on the both processes for over 15 years and touts them as one of the biggest breakthroughs in the modern manufacturing process since the assembly line for the Ford Model T.
iStream is claimed to be cost effective enough for sub premium market segments and requires a manufacturing plant about 20 per cent the size of a conventional plant, greatly reducing the amount of capital investment required. The world had its first taste of the iStream Carbon when Yamaha showed off its lovely Sport Ride Concept at the 2015 Tokyo Motor Show. The concept may be very lucrative but it will be hard for established manufacturers to completely change their manufacturing processes and facilities to embrace iStream but TVR, who is literally starting from scratch is in the unique position to do so.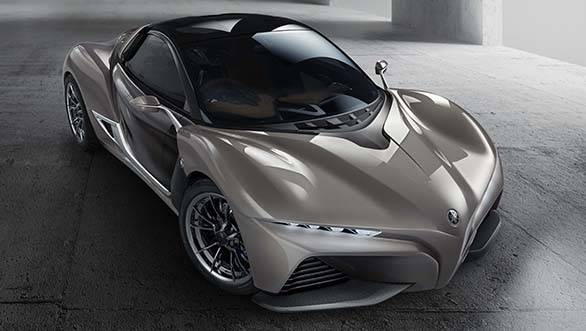 The Yamaha Sport Ride concept that debuted at the 2015 Tokyo Motor show was built using the iStream concept
The road ahead for TVR
This association with Gordon Murray Design further enhances TVR's claim of an all British car and should allow the company to offer their new car with a carbon fibre chassis, something that is usually reserved for high end supercars, at a reasonable price. TVR has hinted that the new car will be offered with the choice of a carbon fibre or with a more cost effective construction that uses fibre glass. Interestingly, TVR announced that 300 initial customers who already booked the car will get the carbon fibre version at no extra cost.
TVR expects to have the production model of this new car ready by 2017 and claims to have already sold out the entire production lot for that year. The company also promises four new models by the end of this decade. Tasty times ahead.
To stay at the cutting edge of automotive news in India, follow us on twitter (@odmag) or on facebook (facebook.com/odmag). Or download our app from the iOS or Android app stores today.