New Tork T6X electric bike teaser video out, to rival upcoming Revolt electric bike
Pune-based EV startup, Tork Motorcycles is all set to launch their first-ever electric bike, the T6X in India. We believe that should happen sometime this year, could be during the festive season. The company has now released a teaser video of the T6X being ridden in a tunnel where you can hear the electric motor. Tork Motorcycles had shown a working prototype in 2016 where its pricing of Rs 1.25 lakh was unveiled. This, however, was not the final price of the T6X that will be announced later this year. Considering the fact that Tork Motorcycles is making the T6X in India with heavy localization in terms of engineering and also for the battery components, it will attract the benefits of subsidy listed under the FAME-II program provided it is priced below Rs 1.5 lakh.  The T6X, according to Tork will hit between 85 and 100kmph flat out and offer a 100km range on a full charge.
The T6X prototype that was shown in 2016 was intended to gauge the public reaction, however, the production model that will debut this year will be a completely revised version. For starters, the frame that was shown in the prototype has been heavily worked on to make it lighter and also improve its durability. This has also improved the T6X's handling. Tork Motorcycle told us earlier that the magic is in the battery management system which is part of the TIROS-named system that Tork will deploy on the T6X. TIROS stands for Tork Intuitive Response Operating System/ The system will allow the selection of riding modes (hence the two top speeds) that will alter the power delivery. The TIROS system will be capable of updating over the air and add more features as they become available. Tork has also confirmed that the T6X will get CBS and its digital system includes many features including navigation.
Tork will start their distribution operations in three cities to start with, Pune, the home base, Bangalore and Delhi. Tork intends to have its own experience zones in the three cities rather than franchised dealers. It already has six charging stations deployed in Pune and it intends to have 100 stations in place before the deliveries begin by the end of this year.  Tork Motors recently appointed Roy Kurian as the head of sales and marketing. Kurian joins the EV brand after having spent 15 years at Yamaha India. His first project at Tork Motors will be the introduction of the T6X, the company first ever offering. He will also focus on strategic tie ups, marketing and distribution of the Tork's upcoming models.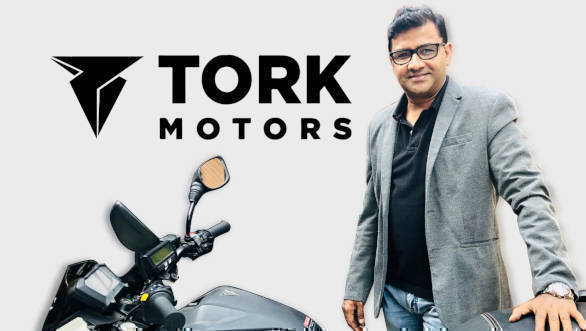 Also read, 
Tork T6X spied testing in India, to be launched by end 2019
Tork T6X pre-bookings now open at Rs 1.25 lakh
Tork Motorcycles raises funds for the development of the T6X electric motorcycle
Roy Kurian appointed head of sales and marketing at Tork Motors