New Splendor iSmart to spearhead Hero's festive season juggernaut
The news emerging from Hero MotoCorp's annual sales conference at Macau is promising. The company has promised that its first indigenous platforms will see the light of day in 2014 and 2015. For this year's festive season, Hero plans to roll out updates to its existing products, and as you are about to see, the range and kind of updates being discussed are quite varied and interesting.
The big news obviously has to do with the Splendor. The Splendor remains Hero's hero product, pulling almost a third of all its momentum. However, in the past few months, the motorcycle has come under pressure. On one hand, Honda has made massive strides in the Indian market. Honda sales are growing at an alarming rate as it spears to its stated intention of overtaking Hero.
Hero, on the other hand, has been focused on putting into place a critical back-end process that is vital to its long-term survival and growth rather than fend-off Honda with short-term strategies. When Hero and Honda ended the JV, the Indian partner had only a skeletal R&D outfit and the need for this to grow and become capable of full lifecycle product engineering was vital. In recognition of this, Hero has been working hard, growing capability, equipment and manpower in R&D. Simultaneously, Hero has also put into place tie-ups for technology and development.
AVL, the Austrian development, major is now working with Hero. The Indian company also has a tie-up with Italian motorcycle development specialists Engines Engineering. This engineering house used to be owned by the Mahindra Group until recently, before it split off shortly after the Mahindra Stallio misadventure. Not quite done, Hero also has converted its association with Erik Buell, the innovative American motorcycle engineer, and his firm Erik Buell Racing (EBR) into something more permanent - it paid USD 25 million to acquire a stake in EBR.
Splendor iSmart with start-stop
To return to the Splendor, the motorcycle has been refreshed again. That means the usual Hero stuff - updated paints, stickers and what have you. But Hero will also add a new variant called the Splendor iSmart from what we have learnt. This will incorporate India's first start-stop system in motorcycles.
The full details will become clear at the launch, but the start-stop should give the already frugal Splendor some more economy points. Will this be enough to see off the Dream Yuga and its kin? Hero will have more for the Splendor. It is expected to deploy a completely new, indigenously developed engine platform perhaps next year or in 2015. The alternative is to work on the existing engine, but it is clear that one of the two will have to be done as the emissions requirements get ever stricter. The importance of this update cannot be overstated. The Splendor is practically the foundation of the Hero empire and any change they make to it will have a dramatic impact on its fortunes. Hero knows this only too well and any changes they make will be carefully researched and meticulously implemented.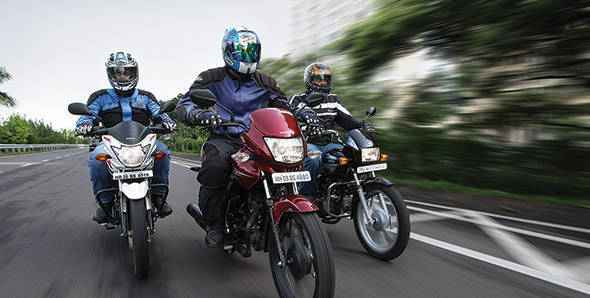 A comprehensive upgrade to the Splendor, no matter how you slice it, has been due for ages. Hero still relies on what is a gently evolved version of the engine platform that fired the original success story, the CD100. In time, that backbone frame has given way to the current diamond-style frame. In contrast, the race to beat the Splendor has spawned completely a new motorcycle from practically every manufacturer in India. Despite its popularity, the Splendor has never won an OVERDRIVE comparison test. With the Dream Yuga and Neo proving to be technically good as well as backed by a brand with a strong, enduring following in India - Honda - Hero has the hardest fight for volumes and market share for the Splendor ahead of it. You had better believe Hero will not bring a knife to this gunfight.
Pleasure scooter with linked brakes
The second bit of news is an update that is expected to headline Hero's scooter lineup. Hero had showed a concept scooter with a lot of technology via EBR at the 2012 Auto Expo. Now some of that technology focus is coming to the street. We hear that the Pleasure is set to be upgraded with linked brakes. Again while the full details of the system will surface closer to the launch, in concept the system will connect the front and rear brakes towards shorter stopping distances. On scooters, where the average rider's skill is considered lower, linked brakes will probably be a useful addition. Almost as useful, both from the standpoint of safety as well as ride and handling. will be if Hero finally moves the ex-Activa platform forward with a set of telescopic front forks, but this is our assessment of the situation and may or may not happen soon.
Pawan Munjal with the 50 millionth motorcycle, the Extreme
Karizma with a touch of Erik Buell
Finally, the bigger motorcycles. Hero intends to equip its CBZ X-Treme with an electronic immobiliser. But the big news is the forthcoming new Karizma. Hero's biggest motorcycle has suffered in the recent times as it has existed with little more than cosmetic changes since it was originally launched. Now we have learnt that EBR has been working on the bike, and the Karizma is to see its most comprehensive update ever. We were expecting a more powerful engine, possibly through a rise in displacement rather than just engine, but we are being told that Hero will stick to the safer alternative - a more aggressive state of tune. Leaked images also show a bigger front fairing with a vertically stacked headlight flanked by two square daytime running lamps. Below that is a resculpted new fairing that still, to our eyes, looks a bit bulky. Finally, the chassis seems to be the same but with a wider rear tyre. Currently, the Karizma favours it's excellent ride quality over a stiffer, handling-oriented setup, and it will be interesting to see if Hero chooses to alter that balance or not.
Altogether, Hero promises as many as 15 new products or variants more or less all concentrated around this festive season. Hero further intends to have its first all-inhouse platform ready for sale in 2014. The Auto Expo show, which for Hero was more about the spectacle and its association with sports in the recent years, will finally have something for the enthusiasts - the promise of new bikes in concept form and yes, their own new bikes as well.
In the background, Hero is working towards its fourth factory based in Neemrana, Rajasthan, while a fifth factory is set for Halol in Gujarat. Hero is also investing ?2,500 crore into its upcoming R&D operation to be based in Kukas, Rajasthan, with the intention of shifting all R&D work to this facility. Hero has been aggressively expanding its sales network abroad too and it is currently busy expanding into African, Latin and South American markets and more.
Hero has been silent in the recent past months, but as it turns out, it is just the lull before the storm. Hold on to your hat this Diwali, Hrithik.