New Porsche 911 GT3 RS laps the Nurburgring in under 7 minutes
Porsche and the Nurburgring go hand in hand when it comes to developing and showcasing sports cars made by the former. The latest in this line is the new 2018 Porsche 911 GT3 RS, which just set a lap time of 06 min 56.4 sec through the Nurburgring-Nordschleife circuit in Germany. And why wouldn't it? The 911 GT3 RS is the most powerful 911 with a naturally-aspirated engine. Known as the 'Green Hell', the challenging circuit measures 20.6km in length. The lap time was set by Porsche works race driver Kevin Estre. The new Porsche 911 GT3 RS comes powered by a 4-litre naturally-aspirated flat-six engine producing 527PS and 469Nm. In fact, the 2018 Porsche GT3 RS bested its predecessor's lap time by a massive 24 seconds, when it took to the legendary circuit on April 16, 2018.
This propels the GT3 RS from standstill to 100kmph in a claimed 3.2 seconds, and onwards to a top speed of 312kmph. The Porsche GT3 RS, however, is not the fastest 911 around the Nurburgring. That honour was claimed by the 911 GT2 RS which did the lap in 06 min 47.3 sec. Also having beat the sub-7 minute countdown is the Porsche 918 Spyder. Recalling his fast laps in the GT3 RS, Estre said that the experience was very similar to what he has felt in the Porsche GT3 R race car. The GT2 RS had taken over the production car lap record from the Lamborghini Huracan Performante, in September 2017.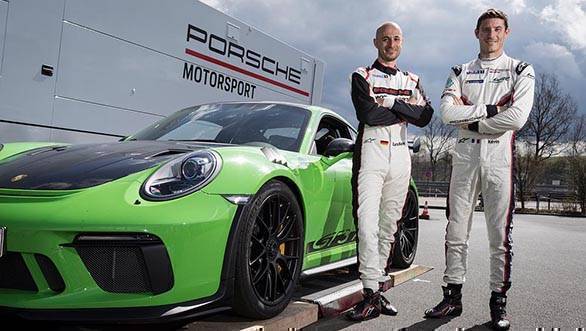 Lars Kern, Porsche-test-driver, and Kevin Estre, Porsche factory driver, after the hot lap at the Nurburgring-Nordschleife
Price (Ex-Delhi)
Starts Rs 1.38 Crore
Price (Ex-Delhi)
Starts Rs 3.21 Crore