New Land Rover Discovery's seats can be configured from anywhere in the world through an app
As far as product feature demonstrations go, Land Rover has taken this aspect, quite literally to new heights! In order to depict the Intelligent Seat Fold system in the soon to be launched Discovery, the company employed the services of daredevil TV personality Bear Grylls.
Land Rover claims that owners can configure the vehicle's second and third row of seats, as in fold/unfold them, using the InControl Remote App via a smartphone. The App is available on both iOS and Android platforms.
What will amaze the owners is that this can be done from anywhere in the world, even when falling from the sky at speeds over 200kmph! To put this to test, Bear Grylls, along with members of the Royal Navy parachute Display team leaped off an airplane, with a smartphone strapped onto Grylls' arm. Halfway through the freefall, Grylls uses the app to fold up the seats on the new Land Rover Discovery, just before pulling the parachute. The seats are re-configured in 14 seconds flat.
Upon landing next to the SUV, Grylls, along with six-members of the team drive off into the distance.
"Land Rover is proving why the New Discovery is the ultimate family SUV. The fact that they have created this world-first Intelligent Seat Fold technology is impressive in itself and for the remote function to work while we are free falling from a plane is pretty cool! I'm not sure many people will be using it in such a manner but the technology to operate the car remotely in this way will undoubtedly be a real winner for busy families who want to be prepared", is what Grylls had to say after landing.
While the demonstration may seem far away from what real life usage will turn out to be, Alex Heslop, Land Rover's Chief Engineer for Discovery says that this function will be beneficial in many ways. Like, for instance, a customer can re-configure the seats while collecting items from a store. This will enable quick and easy loading.
Besides using the app, the seats can also be configured using buttons placed in the luggage area and the C-pillar of the new Discovery. Additionally, the second and third row of seats can be raised or lowered using the touchscreen on the centre console.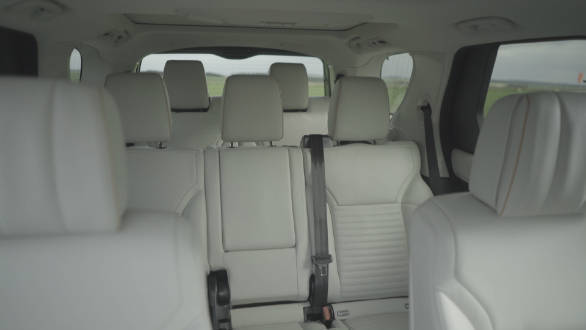 The InControl App can also perform other functions such as confirming whether or not the windows are rolled up, setting the air-conditioner and checking the fuel level.
The new Land Rover Discovery was teased recently and Land Rover will premiere the SUV on September 28, just before the 2016 Paris Motor Show.
Watch the video of Bear Grylls demonstrating the feature below:
Price (Ex-Delhi)
Starts Rs 71.38 Lakhs