New KTMs coming 2017, Husqvarnas could follow
The delay/cancellation of the KTM 390 adventure motorcycle project caused an interruption in the KTM India rollout. The usual flow of new and updated motorcycles showing up between July and September every year slowed to a stop. And now we have more developments. KTM CEO Stefan Pierer has revealed that KTM is now working towards an all-new generation of the platform that powers the KTM 125, 200 and 390 badges motorcycles that will replace the current motorcycles during the course of 2017. KTM will also source components, including engine components from India with help for Bajaj before the actual motorcycles arrive in the market, also most likely in 2017.
NEW KTMS COMING 2017
KTM has always followed an aggressive plan of annual upgrades that see their products receive serious upgrades each year. Now, the company is working with Bajaj towards a complete replacement of the current line of 125, 200 and 375cc motorcycles. KTM CEO Stefan Pierer told CNBC-TV18 that Bajaj and KTM would gradually phase the current fleet out by late 2016. The replacements will be a completely new range built on new platforms with joint investments being made by Bajaj as well as KTM.
KTM has set itself a target of 200,000 units for CY2016, 20,000 more than CY2015 for global sales. Bajaj will raise production from 60,000 units in 2015 to 100,000 units to meet this target.
KTM's move is not unexpected. KTM showed their new 2016 RC390 at the EICMA show in Milan (here's the photo gallery). The motorcycle features updates to the braking system, but more importantly, it added ride by wire and changed to a side-slung exhaust. The explanation was that 2017 emissions norms are very tight and the new exhaust was required to create space to package the hardware needed to meet those regulations. Ride by wire, similarly, brings a small but crucial optimisation of combustion properties that are essential to meeting and passing those new norms.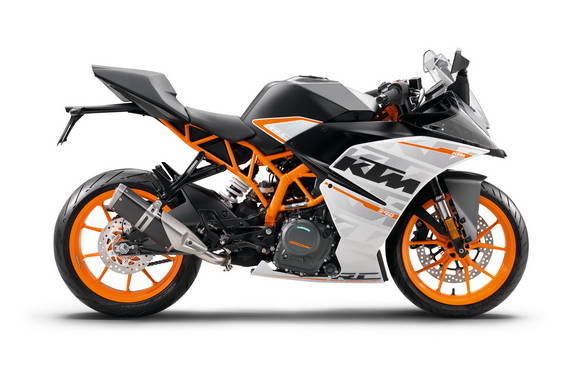 In that light, you can expect the new range of motorcycles to also incorporate ride by wire. KTM indicated to us at Milan that the new emissions norms, Euro IV, is tight enough to warrant serious re-engineering, and not just for the Austrian brand. In that sense, a new range of motorcycles built from scratch to meet those requirements suits the regulatory as well as the freshness needs of this market. Pierer confirmed to CNBC-TV18 that the new bikes will be different not just in engine and engineering but also in design and at the component level.
The new models will step-by-step replace the current models and by the end of 2017, all of KTM's markets will be offering the new bikes.
ENGINE SOURCING FOR HUSQVARNA
The other announcement Stefan Pierer made is also very interesting. Pierer noted that with the Vitpilen (Click here to view image gallery of the Husqvarna Vitpilen 701 from EICMA 2015), Husqvarna is working on a new range of on-road machines. Bajaj is to a play a substantial role in this as well.
Husqvarna's initial plan is to develop motorcycles based on the current KTM-Bajaj platforms. This refers to the first Svartpilen and Vitpilen concepts from two years ago which were concept motorcycles that repurposed the KTM 390 Duke's chassis and engine.
The new information is that Husqvarna will also draw on Bajaj's R&D to develop and produce its new lines starting 2016. Bajaj will initially help in development and in sourcing components. The components will be shipped to Austria initially where actual assembly will take place. Completed Husqvarna motorcycles will then be exported to various global markets.
But later, early 2017, Bajaj's Chakan plant is expected to start making Husqvarna motorcycles which will open the door to the bikes entering emerging markets, including the Indian market. The new bikes slated for early 2017 will initially head to European and US markets before the global rollout.
THE MISSING COMPONENTS
Bajaj now owns 48 per cent of KTM and the relationship has proved beneficial for both companies. KTM overtook BMW in overall sales in Europe to become the top seller based on the Indian-made motorcycles while Bajaj's co-developed Pulsar platforms have gained significantly in capability and quality.
For KTM, though, three glaring gaps remain in their India presence in the context of what the brand stands for internationally.
First is racing. KTM's tag line is Ready To Race, but in India, so far, they've shown no inclination to do that so far outside of the amateur races during their KTM Orange Days events. Of course, KTM's produce spread is changing but the racing involvement started and remains strongly with the off-road sector.
That's the second missing bit - off-road bikes. India is considered to be a market full of off-road terrain but a distinct dislike for off-road motorcycles. The actual on-ground picture on both counts has changed and we believe that Indian enthusiasts are now poised well enough both in interest and paying capability to absorb a commercially successful, if numerically limited, line of off-road motorcycles. KTM would be the natural supplier to this demand but so far, no cigar.
The final bit is CKD and CBU products. The likes of Triumph, Benelli and Harley-Davidson have shown that there is a strong case to be made for bigger machines in India where the premium sector continues to grow at a serious pace. Bajaj-KTM have always insisted that their business strategy will bottom-up - implying a steady move up the displacement ladder.
KTM is also known to be working on 500cc and 800cc parallel-twin powered platforms with the intention of manufacturing with Bajaj also. But they have still to make any moves towards CKD or CBU products shutting out Indian enthusiasts who would like bigger KTMs to express their passions with.
More from OVERDRIVE on new KTM bikes and Husqvarna:
Exclusive: KTM considering production of its all-new 500cc and 800cc bikes in India
2016 KTM RC 390 gets Ride-by-Wire
Top four motorcycle trends spotted at EICMA 2015 in Milan
KTM to build Husqvarnas at Bajaj Auto's Chakan plant
Image gallery: Husqvarna Vitpilen 701 from EICMA 2015
.
Price (Ex-Delhi)
Starts Rs 2,52,928
Price (Ex-Delhi)
Starts Rs 2,48,075