New Honda CRF450L enduro motorcycle unveiled
Honda has taken the wraps off its new CRF450L dual sport motorcycle, and we are glued. The 2019 Honda CRF450L is essentially a motocross machine hiding in road-legal clothing. It is based on a proper motocross bike, the CRF450R. But the CRF450L has been softened, detuned, and has LED lights all around to be legal for road use. However, its body plastics closely resemble the competition bike, which makes it all the more attractive. It is powered by a liquid-cooled fuel-injected 449cc unicam single that produces only 25PS. That may not be much, but it should serve to make the lightweight manageable by a bigger audience. Don't even dream of seeing one in India yet, but we can always hope HMSI is reading this (wink).
The new Honda CRF450L also features a 7.6-litre fuel tank. The low power figure on the 2019 CRF450L seems to have been a result of meeting Euro4 emission regulations. The engine has a three-ring piston for longevity, and the compression is down from 13.5:1 to 12:1. Another major change is that the L receives a six-speed gearbox. Then there is the huge silencer.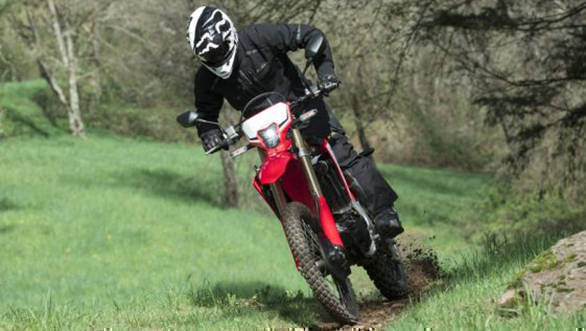 However, despite all of these, the CRF450L manages a kerb weight of 130kg. This combined with the 21 front, 18 rear wheel size combo and 12.4-inch suspension travel should make for a very friendly motorcycle on trails and all manner of off-roading that a general user can throw at it. We already have some trails in mind, (a Gold Wing-sized) if Honda decides to bring this to India.