New for 2020 Volkswagen Passat teased for North America
Volkswagen has released teaser images of its new 2020 Volkswagen Passat executive sedan. This car is intended for the US market which still gets the last generation Passat, unlike Europe and other markets like India.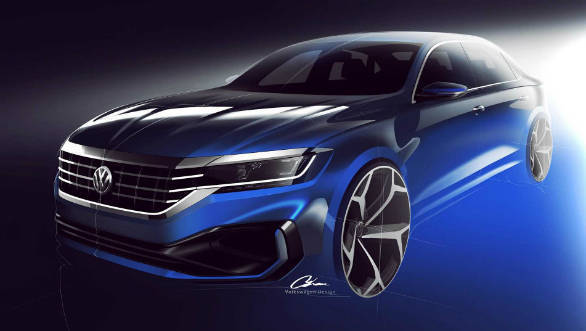 The new Passat is set to debut in early 2019, possibly at the 2019 Detroit Motor Show. The styling of the new Passat will be completely overhauled. There is a large, chrome grille with a grid-like pattern, much like the latest US-market Jetta. The headlamps are a more upright, rectangular shape, unlike the slim units on the European The bonnet and side profiles are now heavier on the creases and more aggressive styling. The styling is also striking, and is heavily influenced by the Arteon. The arteon is a more extroverted, coupe-like derivative of the Passat.
The Passat's interiors will be completely overhauled as well, in line with what the MQB-based Passat offers elsewhere. This means a good materials, straight lines and a fairly simplistic layout. Volksagen's latest eight-inch infotainment set-up with Apple CarPlay and Android Auto will be available but no virtual cockpit. The 2020 car will be offered in four variants with options like lane assist, rain-sensing wipers, adaptive cruise control, ambient lighting, and navigation being available from the mid-spec car onwards.
The new Passat will continue to based on the earlier car's platform which has been around since 2011. A single 2.0 litre turbocharged diesel mot will be available in the US market which makes 174PS and 280 Nm. There will be no AWD ond the V6 option will be dropped as well.
Unlike its American conterparts who are moving away from sedans, VW still hasn't given in to that temptation. This new car shows that the company is ready to let their buyers chose for themselves, even though increasinly fewer of them pick this option.
Also see: Toyota Camry v Skoda Superb v Volkswagen Passat Comparo Video
Price (Ex-Delhi)
Starts Rs 30.2 Lakhs
Price (Ex-Delhi)
Starts Rs 31.99 Lakhs
Price (Ex-Delhi)
Starts Rs 41.7 Lakhs