New facelifted Nissan Micra available
2013 Nissan
Update: Our first drive report is here
Nissan is ready with the facelifted version of its hatchback, the Micra. The car will be unveiled tonight and you will be able to read our drive report later tomorrow. Until then, here's what to expect from the new car.
For starters, the car's exterior styling has been revised comprehensively. It gets a new bonnet, new bumpers and new headlamps as well. The latter has also led to a new design for the front fenders. The front bumper is now more sculpted and there's liberal use of chrome too, be it on the grille, on the lower air dam or around the fog lamps. The grille is now more in-your-face and follows Nissan's international design language. At the rear, the tail lamps have changed to LED units along with changes to the bumper and the tail gate.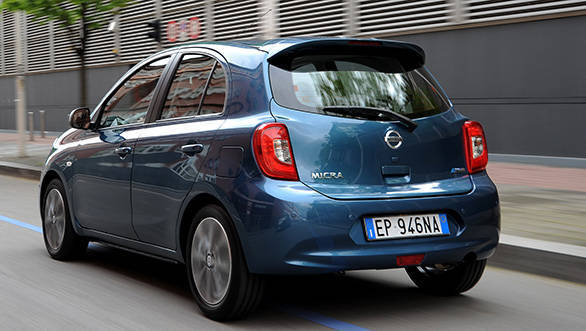 2013 Nissan Micra
Inside, Nissan claims the quality of plastic and fit and finish has improved, and the fabric used for the seats is a notch better than the previous car as well. Changes have also been made to the instrument cluster and the central console; the latter now resembles that of the Sunny, but is finished in gloss black. The climate control interface too is now black but retains the same functioning and design as the older car. The dashboard design hasn't been altered either. The various knobs, buttons and stalks continue to be in their original places and the operability overall, isn't expected to be much better than the previous Micra.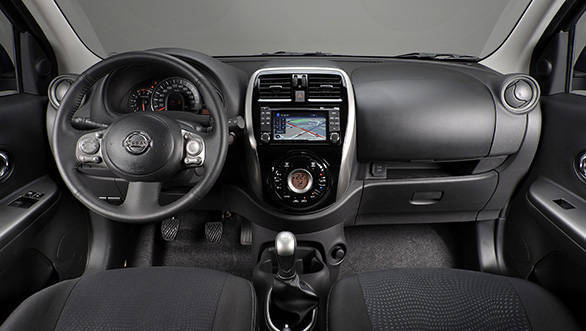 2013 Nissan Micra interiors
The engine options will remain the same too which include the three-cylinder 1.2-litre petrol and the four-cylinder, highly acclaimed 1.5-litre diesel engine. These will come mated to a 5-speed manual gearbox as before. However, Nissan will also introduce a CVT equipped version of the 1.2-litre petrol this time round. The 'box is the same as the one on the Sunny sedan and should make for a good option for those looking at doing short distances within cities.
Stay tuned for a full drive report tomorrow.
Price (Ex-Delhi)
Starts Rs 5.99 Lakhs