New Aston Martin Vanquish S makes 600PS of power
Aston Martin's grand tourer offering, the Vanquish S was launched in 2012. The Brit luxury car manufacturer kept improving it with periodic updates. However, for the new generation Vanquish S has gone ahead and souped it completely. The new design language makes the Aston Martin Vanquish S look more fierce. And the motor powering the mean machine is a V12 naturally aspirated unit that puts out 600PS of power similar to the Aston Martin GT12.
It is an Aston Martin and like every model that comes with the brand's familiar traits, the new Vanquish S too retains the characteristic elements. The new model doesn't get any substantially different additions except for a busier front profile with front splitter and a more prominent rear diffuser. The 2016 Vanquish S also features carbon louvres on the bonnet, diamond-cut alloys and other design packs with new body graphics.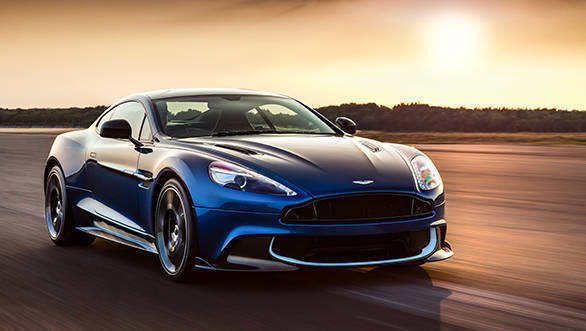 The cabin of the vanquish S comes with host of personalised options which can be seen with a Filograph quilted leather along with new satin chopped carbon fibre fascia panel. It also comes equipped with Weir Caithness leather as standard with Vanquish S embroidery on the headrests
The naturally-aspirated 6.0-litre V12 engine, now produces up to 600PS (up from 573PS). Aston Martin states that the larger volume inlet manifolds allow a greater volume of air to flow into the engine at high revs, that also results into an effective power delivery. This motor is mated to a 8-speed automatic transmission that has been revised to deliver faster gearshifts and greater refinement at low speeds mentions that brand. The company also claims that the suspension, dampers, spring rates and anti-roll bar bushes have also been re-tuned in the Vanquish S to offer more precise handling than before.