NASCAR Whelen Euro Series 2018: Risky manoeuvres compromise Advait Deodhar's Elite 2 category debut
After his recent successes in the Elite Club category of the NASCAR Whelen Euro Series, Advait Deodhar recently made his debut in the Elite 2 category of the same series in the race held at Brands Hatch, at Brands Hatch, United Kingdom during the June 8-10 weekend.
Racing for the Austrian outfit Dexwet – DF1 Racing in the #99 Chevrolet Camaro, Advait partnered with Clemens Sparowitz for Round 3 in the 2018 championship. The weekend started on a good note, with him putting in 44 laps over the two practice sessions.
But things got tougher for him from then on. An electrical failure meant that Advait could only start from the back of the field in Race 1 on Saturday after qualifying. He showed good grit though and made his way up to through the field to be 18th by Lap 13 in the 30-lap race.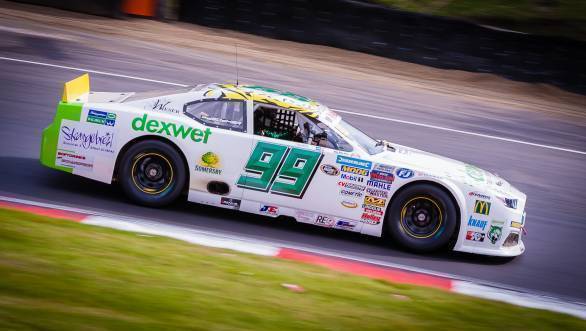 He eventually finished Race 1 in 24th place after suffering a puncture while fighting for position against Braxx Racing's Pedro Bonnet, who was behind the wheel of a Mustang. The stewards held Advait responsible for the contact between them and he was given a drive-through penalty. His race was already compromised as he had anyway fallen four laps behind the leaders.
Race 2 again started out on a positive note as his best time of 50.329s was the fastest on Saturday, consequently letting him start 15th on the grid. He held his place through a disruptive safety car period. But Advait went off and into a gravel trap on lap 11 during a fight with Alex Caffi Motorsport's Carmen Boix (Ford Mustang). This effectively ended his race weekend.
Advait later admitted that he had been a bit hot-headed and made some very risky manoeuvres which didn't bode well for Saturday and Sunday. But he also said that aside from the results, it had been an enriching experience to compete in these cars in the Elite 2 category. He was walking away a better driver and realized he needed to turn down the aggression for the next round. He won't be racing in France in this category but is looking to race in the last two rounds in Hockenheim and Zolder.
Price (Ex-Delhi)
Starts Rs 74.62 Lakhs