Narain Karthikeyan wins joint SuperGT and DTM Dream Race
Narain Karthikeyan, driving a Honda NSX-GT for Nakajima Racing, won the second joint race of Super GT and DTM, at the Fuji Speedway in Japan. India's first Formula 1 driver drove a great race in challenging and varied conditions, moving up from third place on the grid to cross the chequered flag in first. Marco Wittmann, BMW's youngest ever DTM champion, and Loic Duval, 2010 SuperGT champion, took second and third place respectively.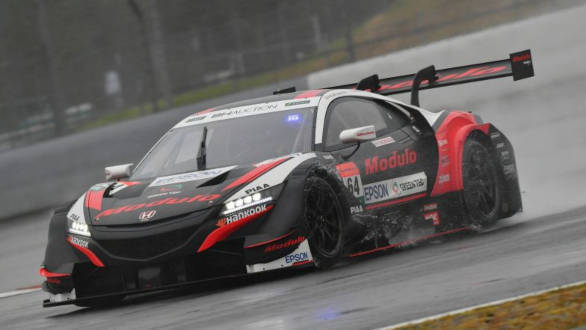 Karthikeyan had qualified in wet conditions in third, with Daisuke Nakajima and Loic Duval in first and second, though Nakajima was handed a penalty and moved down the grid. With only Duval ahead of him, the 31-lap race began in dry conditions with the series' signature flying lap start, and Karthikeyan quickly moved up to first, a position he held for the majority of the race, even after the onset of rain. The race saw the deployment of the safety car on three separate occasions.
The Super GT X DTM Dream Race is a non-championship event, and is only the second coming together of the Japanese Super GT series and the German Touring Car championship. Both series use cars powered by 2-litre turbocharged engines, with over 600PS on tap. The SuperGT championship uses tyres supplied by Michelin, Bridgestone and Yokohama, while the DTM uses (less competitive) control tyres from Hankook, which the Dream Race event also used. This gives the tentative advantage to the DTM teams, who are familiar with the tyre, though the extra aero development on the SuperGT cars does even the game out. Both series are set to move to common Class One regulations for 2020, so it stands to reason that we'll see more crossover events like this in the future.