MV Agusta to enter India shortly with Kinetic
The red and silver MV Agusta brand of Italian motorcycles is on its way here. The premium motorcycle manufacturer, which sells about 10-12,000 units a year worldwide is primarily focussed on the European and US markets. But at a recent launch, MV boss Giovanni Castiglioni revealed that MV's Brazilian operation, which includes a CKD assembly plant run by its local partner, is doing well. Now comes the India story. Kinetic Engineering, the Pune-based company is set to be the Indian partner and an official announcement confirming this is expected within a week or two.
Kinetic has slipped off the automotive radar a bit since it sold its two-wheeler business to Mahindra. In the past years, the company has been focussed on its components manufacturing business. The company has already had relationships in Italy. The group was responsible for the Mito 125 two-stroke engine for Cagiva some time ago. MV Agusta are owned by that exact same family and now Kinetic will become their partners in India.
While the actual plans are not known at this time, some of it is not hard to guess. Like all premium motorcycle players, Kinetic and MV have the option of importing everything above 800cc with just simple paperwork. Anything under that displacement will require homologation. Whatever the displacement, the choice really is whether to import or assemble. Or to be pragmatic, which products to import fully built and which ones to assemble.
We suspect that the company will CBU import almost all of the initial products and that an Indian assembly operation might come later, if at all. Kinetic already has established strengths in the manufacturing area and the assembly facility setup will be easy. However, given that the products will play in a high price, high margin, premium end of the market, a pricing advantage may not be central to MV's success in India. This puts the assembly operation's importance, in our opinion, on the back burner.
MV is a super premium brand but its nearest competition is likely to be Ducati. Ducati has a factory in Thailand which gives it a pricing advantage in India without having to setup a local assembly or manufacturing facility. Triumph has its factory there too, and it also has an Indian CKD assembly operation based in Manesar near Delhi, but it's not in the same class of premium motorcycling. We would expect MV's prices to be higher than Ducati for sure - it's a matter of whether they're outrageously higher or not.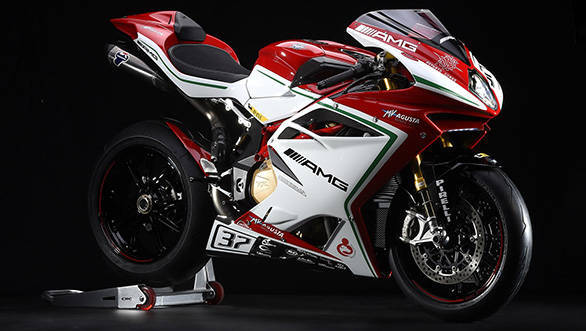 What bikes to expect? MV Agusta's flagship motorcycle is the F4. This comes in 195 and 200PS states of tune from an ultra-short stroke 1000cc inline four-cylinder motor. The F4 is regarded very highly as an involving motorcycle with a unique feel and voice. The motorcycle has ride by wire and MV's MVICS traction control electronics suite which, again, is highly regarded. All that performance is wrapped up in a Massimo Tamburini design that's substantially refused to age. This motorcycle is certain to come, most probably as a CBU and we expect prices to be well north of the Rs 20 lakh mark even for the base F4 with the R, RR and if offered, RC models being even more expensive.
Apart from the F4, the company has three platforms. The 675cc is the base three-cylinder engine and a stroked version of this engine displaces 798cc and powers the 800s. As you can surmise, these are both under the 800cc limit and that means Kinetic and MV will need to homologate these product lines and you can bet that this process is already underway.
The 675cc engine powers most notably, the F3 675 sportsbike. It also powers the Brutale sport naked, also based on the same engine but with changes suited to its more upright riding position. The 798cc engine powers the F3 800 and the Brutale 800. The Brutale 800 Dragster arrived last year, a model sort of in the Ducati Diavel mould - very fast, cornering capable, but not clearly classifiable into the traditional classes of sporting motorcycles.
MV further expanded the 800 line over the past couple of years to add the Stradale, Rivale and Turismo Veloce models. The Stradale is a tourer while the Rivale is a sportier version of the Stradale. Think of them as slightly odd, big supermotos with and without luggage, respectively if you like. The Turismo Veloce is the last of the 800 line and it's an adventure tourer with little or no off-road pretensions. What it's famous for is debuting the second generation of MV's electronics suite. The bike that's hanging in the middle is the Brutale 1090 which boasts a 1078cc inline four-cylinder engine, an off-shoot of the 1000cc four in the F4 that was grown for torque and created a really fast, thrilling sport naked. How fast? The Brutale 1090 comes in 144 and 158PS states of tune.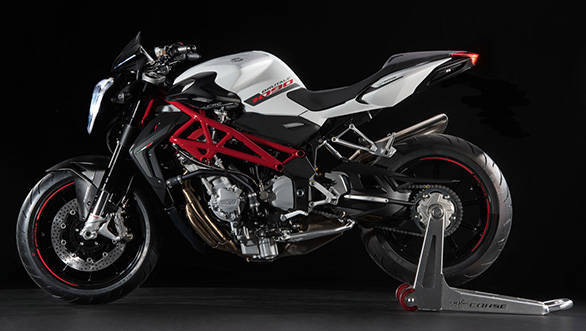 The final challenge before Kinetic and MV, then, is making sure the motorcycles reach customers and that these customers receive the after sales support of the calibre that a premium brand like MV Agusta engenders. Like everyone else has before, we expect the Kinetic-MV operation to open dealerships slowly, starting with the five big cities and then gradually spreading out to smaller pockets.
As we said, we expect Kinetic and MV Agusta to formally confirm the commencement of their Indian operation within a week or two. We expect to see the F4 for sure right from the word go and if Kinetic has homologated the F3 800 already, then that as well. Maybe a Brutale to offer some choice and a lower price point as well. We are not sure of when the dealerships will open doors and when bookings will open but stay tuned.
Price (Ex-Delhi)
Starts Rs 15,59,000