MV Agusta Superveloce 800 Serie Oro to enter production in 2020
MV Agusta presented the Superveloce 800 Serie Oro prototype at last year's EICMA show wherein it gained a lot of traction. In fact, it was one of the most gorgeous looking things on two wheels at the motor show, as has been the case with the MV Agustas. The big news now is that the Italian exotic motorcycle manufacturer has started accepting bookings for the Superveloce 800 Serie Oro that will enter production next year. Priced at €27,990 (Rs 21.66 lakh, excluding duties and taxes), only 300 units of the MV Agusta Superveloce 800 Serie Oro will make into production. Interested? Here is the link to pre-order the exotic offering.
In terms of specifications, the MV Agusta Superveloce 800 Serie Oro makes use of a 748cc triple-cylinder engine that puts out 148PS of power at 13,000rpm. Based on the F3 800 in terms of chassis design and the engine configuration, the  Superveloce 800 Serie Oro has a claimed dry weight of 173kg, which is similar to that of the F3 800.We believe the MV Agusta Superveloce 800 Serie Oro should be a more performance biased machine compared to the F3 800, which is a resultant of the tweaked ECU that has given it a stronger mid-range. MV Agusta assures that even the top end will be as engaging as the mid-range. The gorgeous 3-into-1-into-3 exhaust design has been achieved by the joint efforts between MV and SC Projects, a homage to the Italian's rich racing legacy.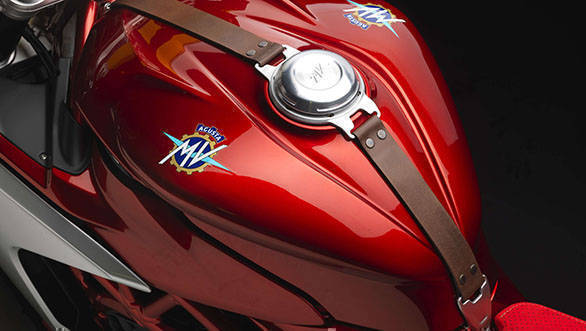 In terms of design, the MV Agusta Superveloce 800 Serie Oro comes with an all-new carbon fibre fairing design which takes it design inspiration from the motorcycles of yesteryear.  As seen in the images, the fairing assembly features a circular LED light in the front as well as a tail light, for that retro classic design. Further, it gets an all-colour TFT instrumentation and a yellow tinted screen.
"Following on from a successful initial presentation at EICMA 2018 (alongside the Brutale 1000 awarded "Most Beautiful Bike of the Show") it was a huge honour to receive an official request from the organisers of such an incredible unique event. The Superveloce 800's distinctive styling; a combination of retro elements inspired by the sensual forms and characteristics of the MV Agusta racing motorcycles of the 60s, and visionary styling combined with the latest technologies, have given the basis for develop a provocative design proposal; a design suspended between past and future; perfectly in context for an event where historic coachbuilding meets future concepts. To win the award within the Concept Class is a huge satisfaction that is a reflection of the dedication, passion and energy we dedicate to every motorcycle.", commented, Adrian Morton, Design Director of MV Agusta/ CRC (Castiglioni Research Center.