MRF Challenge 2017: Presley Martono on pole at Chennai season-finale
The season finale of the MRF Challenge 2017 has kicked off at the newly revamped Madras Motor Race Track (MMRT) in Chennai. The qualifying sessions saw Indonesian driver Presley Martono claim his second pole position in the series, with the driver setting the fastest time of the session. Martono will be joined on the front row of the grid by championship leader, Brazilian driver Felipe Drugovich. Over the course of the qualifying session, it seemed like Drugovich might end up with a lap time that might break the one minute thirty second barrier, but ultimately didn't happen.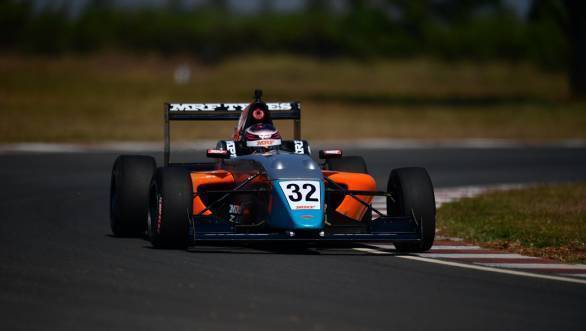 Presley Martono claimed pole position for the first MRF Challenge race at the season finale in Chennai
Over the course of the qualifying session, it was Drugovich who set the first competitive time, before Pavan Ravishankar and Louis Gachot set faster lap times. Rinus van Kalmthout set a lap time of 1min 30.628sec, after which Martono went quicker. His fastest lap time was 1min 30.017sec, which was the fastest of the session. Drugovich, with a time of 1min 30.377sec took second spot on the grid. The second row of the grid sees Van Kalmthout and Julien Falchero lining up, while Ravishankar and Danial Frost locked out the third row.
Speaking after the qualifying session, Presley Martono said, "I have heard great things about the MMRT and it sure did live up to its expectations. The track is challenging and unforgiving even if you put two wheels off. Qualifying is key here but will be more important to lead into the first corner. Felipe and Rinus are both quick but I will do everything to stay in front."
Drugovich, who is hoping to seal the championship title said, "I am happy to be starting on the front row but disappointed not to be on pole. We tried to find the right balance but we are not there yet. Our race pace is good so looking to get a good start and will take it from there."
If you want to follow the races live, here are the links you need:
Live Timing: http://www.madrasmotorsports.in/livetiming/live.html
Live Streaming: www.mrfracing.in
MRF Challenge 2017, Round 4, Chennai, Qualifying:
1. Presley Martono 1:30.017
2. Felipe Drugovich  1:30.377
3. Rinus Van Kalmthout 1:30.468
4. Julien Falchero 1:30.740
5. Pavan Ravishankar 1:30.878