MRF Challenge 2017 heads to Dubai Autodrome for Round 2
The sixth season of the MRF Challenge heads to Dubai for Round 2 of the championship. The second round of the MRF Challenge 2017 will be held at the Dubai Autodrome, with four races over the course of the weekend.
MRF Challenge 2017 Championship leader, Felipe Drugovich, at the previous round at Bahrain
After the first round at Bahrain, it is Brazilian driver Felipe Drugovich who leads the 2017 championship with 80 points. Second place in the championship is held by French GP3 driver Julien Falchero, who has 65 points in the championship. While Indonesian driver Presley Martono has 63 points and currently lies third in the championship, Rinus van Kalmthout is fourth, with 61 points.
The Dubai Autodrome circuit is 5.39km long, and is one of the more challenging tracks on the calendar, with its combination of high-speed straights and technical corners.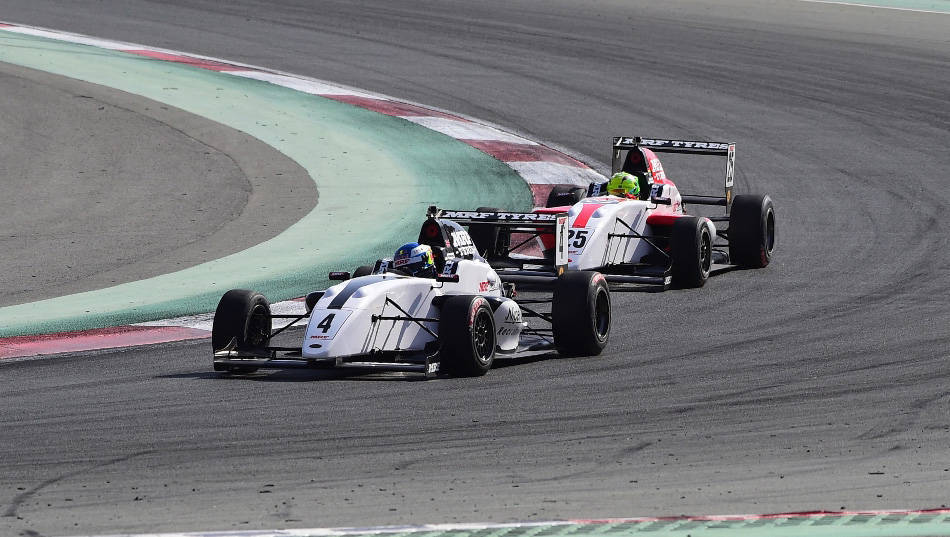 File photo of Harrison Newey leading Mick Schumacher at the MRF Challenge 2016 Dubai round
Speaking ahead of the event, Arun Mammen, managing director, MRF Tyres, commented, "It gives us immense pleasure to return to Dubai with the MRF Challenge. We have some of the best young drivers from across the world who are keen to drive at this exciting circuit. We have had three different winners from the first 4 races so the championship is definitely shaping up well. The Dubai Autodrome is challenging so it is a circuit where all our drivers look forward to racing at."
MRF Challenge Round 2 Dubai - Schedule
Thursday, December 7
10:35 - 11:05: MRF Challenge Practice Session 1
15:00 - 15:30: MRF Challenge Practice Session 2
Friday, December 8
09:50 - 10:20: MRF Challenge Qualifying
13:20 - 13:50: MRF Challenge Race 1
16:25 - 16:55: MRF Challenge Race 2
Saturday, December 9
09:30 - 10:00: MRF Challenge Race 3
12:30 - 13:00: MRF Challenge Race 4