MRF Challenge 2017: Felipe Drugovich increases championship lead after Dubai double podium
Brazilian driver Felipe Drugovich has extended his lead at the head of the MRF Challenge Championship standings. The driver, who faced disappointment during the first day of racing in Dubai, recovered beautifully on Day 2, claiming one win and one second-place finish. This means he now leads the championship with 150 points, ahead of Presley Martono who has 132 points. Rinus van Kalmthout, with 124 points, is third in the championship.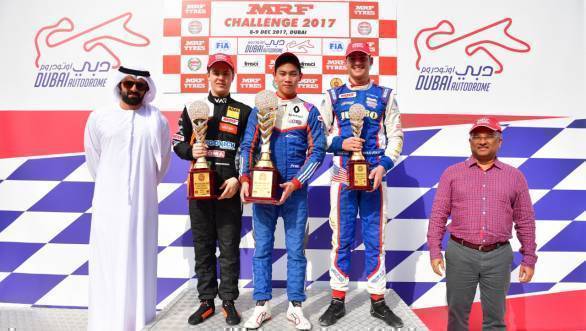 The drivers on the podium from left - Felipe Drugovich, Presley Martono and Rinus van Kalmthout, with MRF's Arun Mammen to the extreme right
When the third race began, it was Martono who got off to a good start, leading into the first corner, with Drugovich tucked in right behind him. The Brazilian driver soon started piling on the pressure on the Indonesian, and made a bold move down the inside into Turn 12. Behind them, Harri Jones, Karkosik, and Julien Falchero were battling it out. In fact their scrapping got them into a little bit of trouble, with all three being given a warning for dangerous driving on track. At the front though, it was Drugovich who crossed the chequered flag first, taking his fourth win of the season. Behind him Martono took second place, while Karkosik claimed third.
Fourth and fifth on track were Danial Frost and Falchero, however, both were disqualified due to technical infringements on their cars. This promoted Jones to sixth place, after which he was given a 20-second penalty for overtaking outside track limits. After all the penalties had been handed out, it was Robert Megennis, Michale Amendola and Manuel Maldonado who finished fourth, fifth and sixth. Championship contender van Kalmthout had a gear shift problem and dropped to last before recovering to finish in 9th position.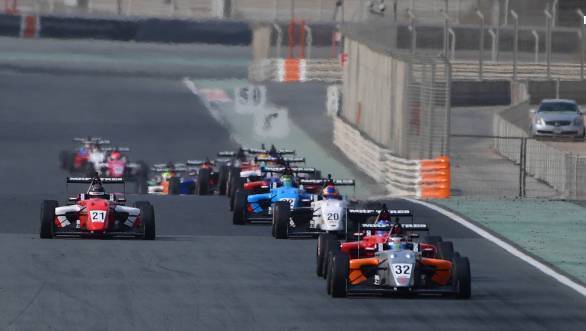 Martono leads the pack during the fourth race in Dubai
The final race of the weekend had van Kalmthout start on pole, with Martono second on the grid. It was the latter who had a terrific start, moving into the lead by the first corner. Behind Maldonado and Frost collided, which resulted in a Safety Car situation. Once the Safety Car came back into the pitlane, it was Martono who found himself under pressure from van Kalmthout and Drugovich. However, he managed to keep ahead of his rivals. Drugovich made the jump on van Kalmthout and managed to move into second, after which he began to hound Martono, however the Indonesian driver was able to hang on for victory, his first this season. Second went to Drugovich, while van Kalmthout took third.
While Karkosik finished fourth on track, he was later disqualified for failing to serve a drive-through penalty for a jump start. This promoted Jones to fourth, with Falchero fifth.
Championship leader Felipe Drugovich, said after the races, "Today was a really good day so I am very happy to extend my championship lead. Especially after we had that problem yesterday, today's win was sweet. I really enjoy driving on this circuit."
Presley Martono was thrilled to win his first race after showing great pace the whole weekend. He said, "I have been having a problem with my starts but today in race 4 I really nailed it. When the safety car came out I knew I would have a tough time keeping the two guys behind me. But the car was good so to take my first win here feels good."