MRF Challenge 2017: Dominant Drugovich claims championship title after stellar performance in Chennai
Brazilian driver Felipe Drugovich has been crowned the 2017 MRF Challenge Champion at the Madras Motor Race Track (MMRT) in Chennai. The 17-year old only managed to claim third and sixth place in the first two races of the championship, but it was enough to seal the championship title.
Winning Race 1 was Rinus van Kalmthout, who finished ahead of Presley Martono and Drugovich. Victory in the second race went to Martono, ahead of van Kalmthout and Danial Frost.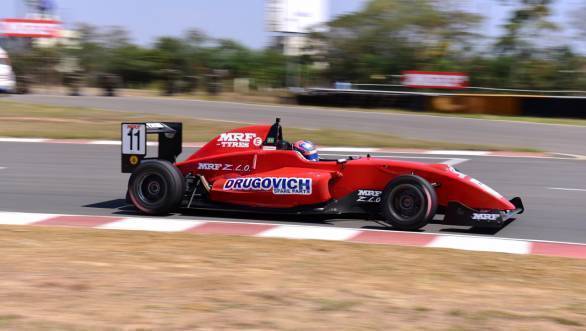 Felipe Drugovich won the 2017 MRF Challenge championship title
Other than the fact that the championship title was sealed, with two races to spare, a new lap record was set at the MMRT. van Kalmthout became the first ever driver to break the 1min 30sec barrier, with a lap record of 1min 29.967sec.
Presley Martono, Felipe Drugovich and Rinus van Kalmthout on the podium, with MRF's Arun Mammen standing alongide them.
Speaking after winning the championship title, Drugovich said, "It feels fantastic to win the championship. I have not been happy with the balance of the car today but I just did what I had to win the championship. This year has been great and consistency has been the main reason behind my title win. The weekend in Abu Dhabi stands out as the most memorable moment of this championship."
Things got even better for the newly crowned champion as he went onto win the remaining two races of the weekend, ending his season on a high.