MRF Challenge 2016 Round 2: Joey Mawson leads championship after race win at Dubai Autodrome
The Second Round of the MRF Challenge 2016 was held from December 09 to December 10, 2016, at the Dubai Autodrome, UAE. The races were pretty action-packed with wheel-to-wheel racing and a few retirements that shook up the championship table.
On Day 1, Australian driver Joey Mawson put up a brilliant drive to grab pole position from Harrison Newey, for Race 1. He set a time of 1min 55.945sec, which was the fastest time set by the MRF F2000 cars at the Dubai Autodrome. Mick Schumacher, winner of the First Round, set the third fastest time in qualifying.
As the lights went out, Mawson got off to a brilliant start and managed to keep Newey as the duo went into Turn 1. Newey attempted a pass on the outside, but he could not make it stick. Meanwhile, Mick Schumacher managed to hold on to P3. As the race settled, the lead pair were engaged in a major battle for P1, driving side by side for three corners. Newey kept piling the pressure on Mawson and made a move on Lap 4, eventually passing the Australian. Mick Schumacher then began closing in on Mawson, but could not find a way through.
Newey, meanwhile, began stretching his lead and crossed the finish line with a 2.572sec gap to second-placed Mawson. Mick Schumacher finished third.
Newey was content with the win and points haul at the end of race. He said, "I was disappointed not to be on pole position today. I had a good start and was behind Joey [Mawson] for the first few laps. It was a hard but fair battle with Joey but I managed to get past."
In Race 2, Brazilian driver Felipe Drugovich took top honours.
On Day 2, the action was quite intense. In Race 3, Joey Mawson was on Pole, with Harrison Newey right next to him. As the lights went out, Newey got off to a flying start, managing to get past Mawson, going into Turn 1. Mick Schumacher, who was behind the duo, was involved in a collision with Juri Vips car. The damage was too much to continue, and the both Schumacher and Vips were forced to retire. The incident dented Schumacher's title challenge.
The collision brought out the safety car. As the race was restarted, Mawson grabbed the opportunity and managed to regain P1, pulling move on Newey going into Turn 1. Mawson then began pushing hard in order to build a gap to Newey. In doing so, a small mistake caused Mawson to run wide, gifting the lead to Newey. Felipe Drugovich also took advantage of Mawson's mistake and moved up to P2, relegating Mawson to third. As the chequered flag came out, Harrison Newey managed to hold on to P1, crossing the line a mere 1.767 sec ahead of Drugovich. Mawson finished third.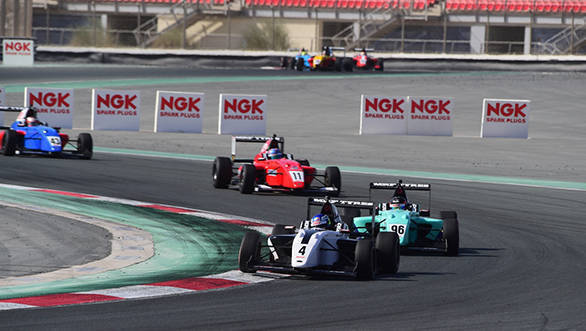 For Race 4, the reverse grid came into play that put Dylan Young on pole. However, Young made a poor start and failed to make the most of it as the race began. Van Kalmthout drove past Young to snatch the lead with Joey Mawson following him closely to rise to P2. Behind them, Newey made good start and moved up to P3 by the end of Lap 1. However, by Lap 3, Newey ran out of luck as his car suffered a technical problem, forcing him to retire from the race.
Joey Mawson, meanwhile, was in a class of his own as he began reeling in the Kalmthout. He quickly got past him to move into the lead. Felipe Drugovich was next one to get past Kalmthout and into P2.
Mick Schumacher, who began from last place, was quick to move up the order, storming into P5 by the end of Lap 1. He looked like a man on a mission as he began closing the gap to the leading pack. He got past Kalmthout to move into P3 and looked set to grab P2, but ill fate struck again. The German's car suffered a puncture causing him to retire.
Mawson was unchallenged till the end, and he managed to secure his first win of the season. Drugovich finished second and Kalmthout crossed the line in third. The drama, however, continued even after the chequered flag was out. Kalmthout was handed a 10-second penalty for an infringement which promoted Zane Goddard to third.
Schumacher's two retirements means he slips from the lead to fourth position in the championship with 102 points. Joey Mawson leads with 141 points with Newey in second at 113 points and Drugovich in third at 105 points.
The next round of the championship will be held at the Buddh International Circuit in India from January 27 to January 29, 2017.