MRF Challenge 2015: Pietro Fittipaldi leads championship with two races left
The final round of the MRF Challenge 2015 kicked off today at the MMRT in Chennai. Brazilian, Pietro Fittipaldi, who currently leads the championship, managed to grab pole position during qualifying. Throughout Race 1, Fittipaldi held the lead comfortably, with Harrison Newey in second. Mick Schumacher, who started fourth off the grid, finished third in his MRF Challenge debut. The second race was set on a reverse grid, which got Tarun Reddy on pole. With a good start, Reddy managed to hold first place with Alessio Picariello right behind him and Nikita Troitckii in third.
Pietro Fittipaldi en route victory in Race 1 of the season finale of the MRF Challenge in Chennai
As the race progressed, all eyes were on the battle for first place. Although Picariello was pushing as hard as he could, Reddy held his lead. Meanwhile, just behind the first three drivers, Tatiana Calderon and Schumacher were in a battle of their own for fourth place. During this battle the two lost a few places as they almost made contact twice. By lap 17, Reddy's tyres were starting to lose grip because of all the defensive driving and Picariello was only pushing harder. Finally Picariello thought he saw a chance to overtake and when he tried to do so, the two drivers collided, sending Reddy out of the race immediately. Picariello tried to go on, but was forced to retire in the following lap due to excessive damage on his car. This pushed Troitckii up to first place, followed by Harrison Newey and Nerses Isakyaan. Calderon finished fourth with Fittipaldi following. With two more races to go, Fittipaldi still leads the score board with Calderon in second.
Russia's Nikola Troitckii took victory in the second MRF Challenge race of the weekend
This weekend also hosts the first round of the MRF FF1600 Championship, the Indian Junior Touring Car (IJTC) Championship, the Super Stock Championship and the Honda CBR250 One-make Championship.
Keith D'Souza took victory in the first Indian Junior Touring Car Race of the weekend
In the MRF FF1600 Championship, defending champion, Karthik Tharani Singh, managed to qualify on pole position for tomorrow's race, while Goutham Parekh and Anindith Reddy will start from second and third on the grid. In the first IJTC race, Keith D'souza from Unimek Racing took the chequered flag followed by Vinod S and Ashish Ramaswamy. Chandresh Tolia, meanwhile won the Super Stock category with Adith KC and Alisha Abdullah following in second and third place respectively. In the first Honda One-make Championship race, Akash Dingare, won the race by the smallest margin ahead of Dinesh Kumar D.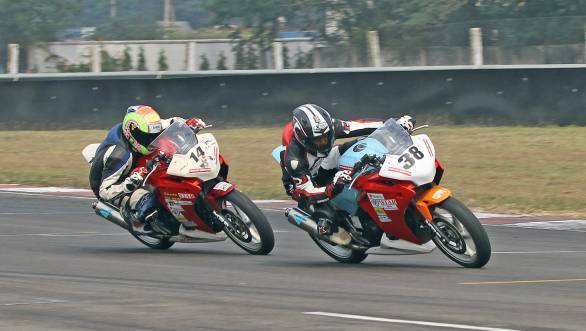 Akash Dingare won the first of the Honda races of the season
Results
MRF Challenge
Race 1 (15 laps)
1. Pietro Fittipaldi (Brazil)
2. Harrison Newey (England)
3. Mick Schumacher (Germany)
Race 2 (20 laps)
1. Nikita Troitcki (Russia) (32:18.347s)
2. Harrison Newey (England) (32:19.103s)
3. Nerses Isaakyan (Russia) (32:27.595s)
National Racing Championships
MRF F1600 (Qualifying)
1. Karthik Tharani (01:40.761s)
2. Goutham Parekh (01:40.065s)
3. Anindith Reddy (01:41.197s)
Indian Junior Touring Cars
Race 1 (10 laps)
1. Keith Desouza (Unimek Racing) (24:43.996s)
2. Vinod S (Pvt) (24:51.609s)
3. Ashish Ramaswamy (Red Rooster Racing) (24:52.886s)
Super Stock
Race 1 (10 laps)
1. Chandresh N Tolia (Pvt) (24:49.375s)
2. Adith KC (Pvt) (24:50.068s)
3. Alisha Abdullah (RAD Racing) (25:07.791s)
Honda CBR250 Championship
Race 1 (8 laps)
1. Akash Dingare (Pune) (16:48.312s)
2. Dinesh Kumar D (Chennai) (16:48.389s)
3. Amivan Poederdo (Puducherry) (16:55.388s)
Price (Ex-Delhi)
Starts Rs 1,64,143