MRF Challenge 2015: Pietro Fittipaldi bags championship title
Pietro Fittipaldi bagged the MRF Challenge 2015 title with one race to spare after he held the lead from start to finish in Race 3. Harrison Newey, who managed the fastest lap in the race at 1:34.488s, was on his tail throughout, finishing just 1.26 seconds behind Fittipaldi. In third and fourth place, were Nikita Troitckii and Tatiana Calderon. With the Championship title out of the picture after Race 3, all eyes turned to Troitckii and Calderon, who were in contention for second place. Troitckii's third place finish in this race meant he was just 3 points behind Calderon on the scoreboard.
Pietro Fittipaldi with the Brazilian flag after winning the 2015 edition of the MRF Challenge
Race 4 started on a reverse grid, which saw Alessio Picariello on pole, ahead of Mick Schumacher and Calderon. Fittipaldi, who was starting sixth had made it clear that he wasn't going to go easy just because he had already won the championship. Picariello got a great start and started pulling further away lap after lap, while Mick Schumacher was fighting off Calderon, who was also fighting off Troitckii. Meanwhile, Fittipaldi made his way past Tarun Reddy to get behind Troitckii. The constant pressure from him eventually led to Troitckii spinning out and losing his position. With him out of the way, Fittipaldi set his sights on getting past Calderon to gain a podium finish. By this time, Calderon's tyres had started to give in, but she managed to hold her position despite her car slipping and sliding at every other corner. At the end of the 20 lap race, Alessio took the win, 16 seconds ahead of Mick Schumacher, with Calderon securing her second place championship title with a third place finish.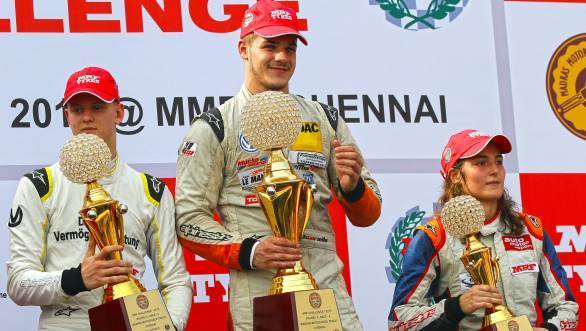 Mick Schumacher, Alessio Picariello and championship runner-up Tatiana Calderon on the podium in the final race of the season
In the MRF FF1600 Championship, Karthik Tharani Singh saw good start to the season with a double win in Round 1. Starting from pole position, Tharani held his lead throughout to take the chequered flag, while Goutham Parekh and Anindith Reddy finished second and third respectively. In Race 2, Tharani started sixth on a reverse grid, but made his way up the ladder past Reddy and pole-sitter Raghul Rangasamy to finish first.
Double win for Karthik Tharani during the first round of the MRF FF1600 championship in 2016
The Indian Junior Touring Car Championship saw Anant Pithawalla from Team N1 win first place ahead of teammate Biren Pithawalla and Sri Hariram R. In the Super Stock category, team Race Concepts' Adith KC finished first, ahead of Veeresh Prasad (Race Concepts) and Alisha Abdullah (RAD Racing).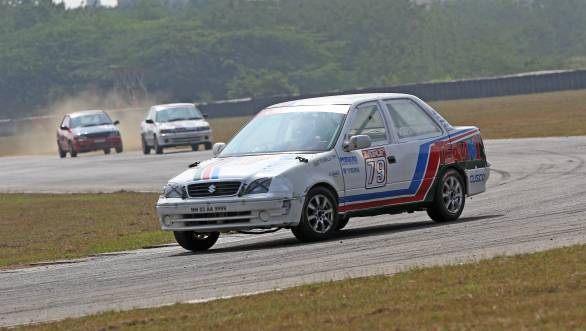 Anant Pithawalla won the second race of the Indian Junior Touring Car Championship
The Honda CBR250 One-make championship was certainly the more entertaining race today with competitors overtaking each other at every corner. The first five competitors pulled ahead of the lot and were constantly swapping places. By the end however, Mathana Kumar S took the win followed by Dinesh Kumar D and Rajiv S.
Results
MRF Challenge - Race 3 (15 laps)
1. Pietro Fittipaldi (Brazil) (25:30.069s)
2. Harrison Newey (England) (25:31.285s)
3. Nikita Troitckii (Russia) (25:38.064s)
MRF Challenge - Race 4 (20 laps)
1. Alessio Picariello (Belgium) (31:53.856s)
2. Mick Schumacher (Germany) (32:10.076s)
3. Tatiana Calderon (Colombia) (32:11.187s)
National Racing Championships
MRF FF1600 - Race 1 (7 laps)
1. Karthik Tharani Singh (11:59.967s)
2. Goutham Parekh (12:02.986s)
3. Anindith Reddy (12:05.762s)
MRF FF1600 - Race 2 (10 laps)
1. Karthik Tharani Singh (17:14.196s)
2. Raghul Rangasamy (17:14.654s)
3. Anindith Reddy (17:16.931s)
Indian Junior Touring Cars - Race 2 (10 laps)
1. Anant Pithawalla (Team N1) (20:55.530s)
2. Biren Pithawalla (Team N1) (20:59.908s)
3. Sri Hariram R (Pvt) (21:09.653s)
Super Stock - Race 2 (10 laps)
1. Adith KC (Race Concepts) (21:04.425s)
2. Veeresh Prasad (Race Concepts) (21:25.155s)
3. Alisha Abdullah (RAD Racing) (21:26.496s)
Honda CBR250 One-make Championship - Race 2 (8 laps)
1. Mathana Kumar S (Trichy) (16:50.446s)
2. Dinesh Kumar D (Chennai) (16:50.633s)
3. Rajiv S (Chennai) (16:51.380s)