MRF Challenge 2015: Nobuharu Matsuhita dominates in Abu Dhabu
The first round of MRF Challenge 2015 got off to a good start for GP2 driver Nobuharu Matsuhita, who took two wins over the course of the weekend at Abu Dhabi and ended up at the top of the championship standings.
Arun Mammen, MD MRF Tyres with Pietro Fittipaldi, Nobuharu Matsushita and Jake Dennis
Matsuhita had already dominated the qualifying session and taken a fine pole position which helped him to a good, clean start during the first race. Behind him Jake Dennis managed to lose out to a fast-starting Pietro Fittipaldi, and despite his best attempts at getting back ahead of him, wasn't able to. Lady driver Tatiana Calderon was in fourth place, ahead of Russia's Nikita Troitckii and Indian driver Tarun Reddy, who'd started in ninth but managed to move up to sixth place. A Safety Car period was necessitated when Karthik Tharani and British driver Laura Tillett tangled, but this didn't seem to affect Matusuhita one bit, and he continued, building his lead to four seconds over the rest of the pack as he crossed the chequered flag first. Second place went to Fittipaldi, with Dennis third.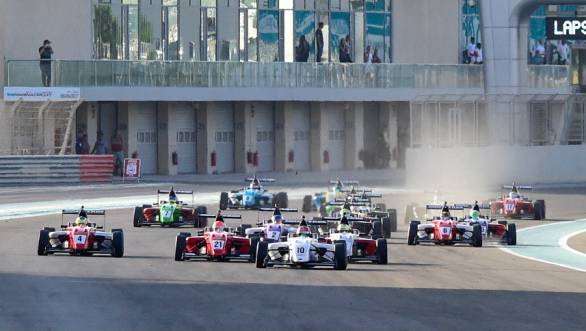 Matsuhita leads the pack during the first race of the weekend
During the second race, it was Reddy who was on pole. He had a good start and managed to head off clear of the rest of the pack, ahead of Calderon and Dennis. There was some chaos as Dennis tried to get the better of Calderon, but ran wide, allowing Troitckii and Fittipaldi through to third and fourth. Matsuhita, who hadn't the best of starts, recovered to fifth place. And then it was a close race, with the top five covered by less than two seconds with two laps to go. And then, into the very last corner, Reddy and Calderon clashed and went off the track when Calderon's move to pass the Indian went wrong. This allowed third-placed Troitckii through to win, with Calderon finishing second and Fittipaldi third, with the hapless Reddy fourth ahead of Matsuhita.
The third race was another Matsuhita dominated affair. Starting from pole, the Japanese driver got off to a good start, with Jake Dennis second and Fittipaldi third. Behind them Calderon was fourth ahead of Tarun Reddy who had once again had a good start moving from eighth to fifth place. Matsuhita ran away at the head of the order, allowing Dennis and Fittipaldi to battle hard. This time Fittipaldi could do nothing to get past Dennis. And Calderon also proved to be more than just a worthy opponent as she managed a terrific overtaking move to get past Fittpaldi on the very last lap and take the third step on the podium.
During the fourth and final race of the season, Fittipaldi and Tarun Reddy managed to get the jump on pole sitter Troitckii into the first corner, with Calderon third. While Fittipaldi won the race fair and square there was some amount of confusion behind him. Calderon had made a move on the very last lap of the race, but she and Reddy had crossed the finish line nearly side by side. The timing screens, however, confirmed that Calderon had crossed the line 0.013secs ahead of Reddy. Matsushita finished in 4th place ahead of Dennis and Troitckii. Nerses Isaakyan from Russia grabbed 6th place ahead of Alice Powell and Laura Tillet. This was also the first time that 3 female drivers finished in the top 10 in the championship.
After Round 1 of the championship, Nobuharu Matsuhita leads the points table with 80 points, ahead of Pietro Fittipaldi who is second with 68 points, and Colombia's Tatiana Calderon who is third with 61 points.
The MRF Challenge will head to Bahrain for Round 2 of the championship in two weeks' time.