Motoziel and Edelweiss form joint venture to offer bike tours
Bike touring firm Motoziel has formed a joint venture with Edelweiss Bike Travel to offer domestic and international bike tours. Like Motoziel, Edelweiss Bike Travel is also a bike touring firm based in Meiming, Austria. The joint venture is called Motoziel Edelweiss Pvt. Ltd.
The bikes on offer range from cruisers like Harley-Davidson all the way to supersports bikes from Ducati, with tours ranging from a few hours to a fortnight. Prices vary from Rs 5,500 to Rs 2 lakh depending on the tour length, location and bikes.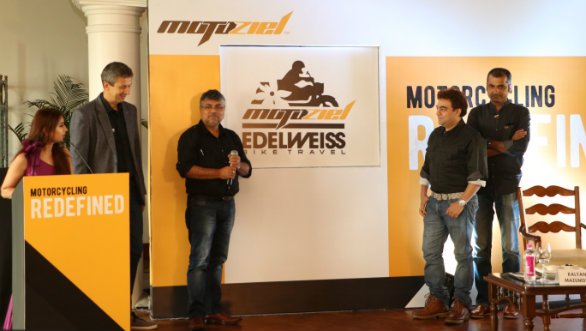 "Motorcycle enthusiasts in India or tourists seeking big bike travel experience through the subcontinent terrains can now opt for a big bike of their choice, a pre-designed tour package or customise it as per their preference and enjoy the thrill under guidance of international experts," said Kalyan Mazumdar, co-founder and managing director, Motoziel.
"Being from India, we bring terrain knowledge while Edelweiss brings in its knowledge of the industry and operations to the joint-venture entity," said Biswaroop Banerjee, co-founder and executive director, Motoziel.
The joint venture will first focus on tours in the North and North East of the country, later expanding to the South and then to neighbouring countries.
"Besides, we will focus on Rajasthan during the winter months and later South India too. With Edelweiss, we will begin bike tours for Europe. They will take care of the service part there. We are also looking at neighboring regions like Sri Lanka, Bhutan, Nepal, Bangladesh and Tibet," he added.
Rainer Buck, MD, Edelweiss Bike Travel, said, "There is immense potential in the motorcycle tourism in India and its neighbouring countries, and we are aiming at the untapped market opportunity that is available."
As a part of the package, the tours will include the bikes, food, accommodation and expert guidance from instructors. There are 18 bikes on offer, from brands like Harley-Davidson, Honda, Kawasaki, Ducati, BMW, Suzuki and Triumph. The company has also tied up with Royal Enfield for tours at specific locations.
Related Stories