MotoGP 2018: Marc Marquez wins the World Championship
Marc Marquez has clinched the 2018 MotoGP World Championship. The Repsol Honda rider was in his element and he meant business right from the start. After a disastrous qualifying session yesterday, Marquez began the race at P6. At the end of the first lap, he leaped onto P2 and began hunting down Pole sitter, Andrea Doviziosso.
Doviziosso looked pretty strong thought the initial part of the and managed to keep Marquez behind him, despite the Spanish rider's attempts at passing him. However, on the penultimate lap, Doviziosso crashed, pushing Marquez into the lead and with enough points in the bag to clinch the World Championship, with three rounds to go. This is Marc Marquez's 7th World title.
Cal Crutchlow finished the Japanese GP on P2 while Suzuki's Alex Rins crossed the line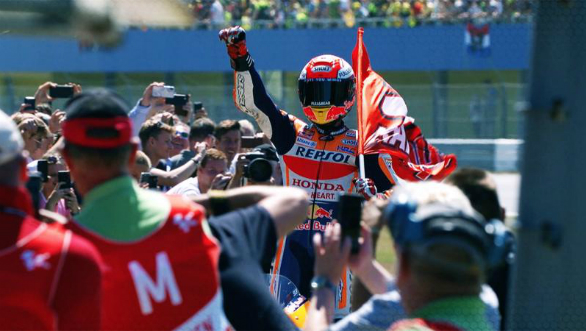 Movistar Yamaha's Valentino Rossi tried hard to make make up for his poor qualifying and he looked quite strong in the initial part of the race. At one point it looked as if he would challenge the front runners. But, as the race progressed, he fell into the clutches of Suzuki's Andrea Iannone. Rossi slipped to sixth at one point but finished fourth after Iannone crashed out of the race.
Image source: MotoGP