MotoGP 2017: Valentino Rossi to attempt to ride at Aragon
They say that you can't keep a good man down. That's certainly true in the case of Valentino Rossi! After breaking his right tibia and fibula in an enduro training crash, Rossi says that he's going to attempt a comeback at this weekend's Aragon Grand Prix, just 22 days after the injury.
While Movistar Yamaha had already announced Michael van der Mark as Rossi's replacement at the race, Rossi clearly doesn't intend to give up his seat at the Aragon GP. Not without a fight. He tested an R1 superbike at Misano on Monday, although bad weather cut short the afternoon. Rossi then carried out another 20 laps of testing on the R1 on Tuesday, and reported that he was feeling better than he had the previous day.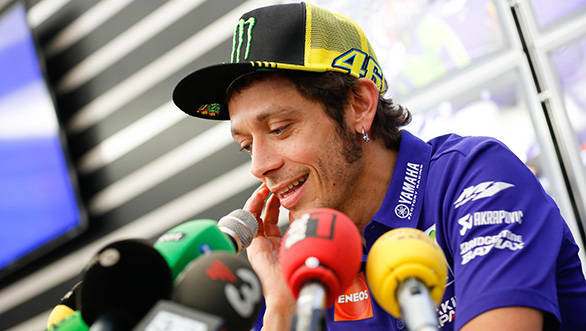 He then had to undergo a medical examination, after which he decided to ride at Aragon. Of course, there's still the circuit medical test that he needs to clear before he can be allowed to take part in the race.
"Fortunately, yesterday I had a good test with my YZF-R1M in Misano," Rossi said. "I tried also the day before, but the rain stopped me after a few laps. Yesterday I managed to complete 20 laps and find the answers I was looking for. Eventually, the test was positive and I want to say thanks to Dr. Lucidi and his staff, who helped me find the best solutions to feel the least amount of pain possible in my leg when I'm riding," he continued.
He did admit that he does still have a "little bit of pain" although further tests have yielded positive results. "Obviously at the end of the test I was in a little bit of pain, but this morning I went to Dr. Pascarella for a medical check, and it came out with a positive result. At the end I decided I will leave for Aragón and will try to ride my M1 this weekend. If I will be declared fit to ride, I'll have the real answer after FP1, because riding the M1 will be a much bigger challenge. We'll see. See you in Aragon!" said Rossi.
Yamaha still has World Superbike rider van der Mark on standby, should Rossi not be declared fit to race at Aragon. However, since this decision will only be made clear after FP1, there's an added challenge for the Dutchman, since he will lose out on some valuable track time.
"Though it remains uncertain if I will get to ride the YZR-M1 this weekend, I'm still looking forward to it. While I would like to get to step aboard the YZR-M1, I'm also fully supporting Valentino making his return. I'll either get to make my MotoGP debut or, should I not be able to ride, I will get to see Valentino live in action as he makes his comeback," said van der Mark. "As I said earlier, I've not been able to ride a MotoGP bike before the Grand Prix kicks off so, if Valentino ends up withdrawing from the Aragón GP, I will have to jump in at the deep end at the start of the next session and just try my best," he continued.
But Rossi is determined to get back on the M1 at Aragon, and try and make up some ground after missing the previous round of the championship at San Marino. He is now fourth in the championship, 42 points adrift of Marc Marquez and Andrea Dovizioso, while he is 26 points behind team-mate Maverick Vinales.
UPDATE: Rossi has been declared fit to race at Aragon. Movistar Yamaha released a statement saying, "This afternoon Valentino Rossi successfully completed a mandatory medical examination carried out by MotorLand Aragón's Chrief Medical Officer, Clemente Millan. He declared that the nine-time World Champion is fit to ride, 21 days after sustaining a leg injury. The Italian will take part in the FP1 session tomorrow."