MotoGP 2017: Michael van der Mark to replace Rossi at Aragon
Yamaha has announced that WSBK rider Michael van der Mark will replace the injured Valentino Rossi at the team at Round 14 of the 2017 MotoGP World Championship at Aragon. While Rossi is recuperating from his leg injury, and is reportedly healing well, he isn't expected to be likely to return to competition before the Grand Prix of Japan. And while the team chose to not run with a replacement rider at the recently concluded MotoGP round at Misano, they have now stated that van der Mark will ride Rossi's YZR-M1 at Aragon.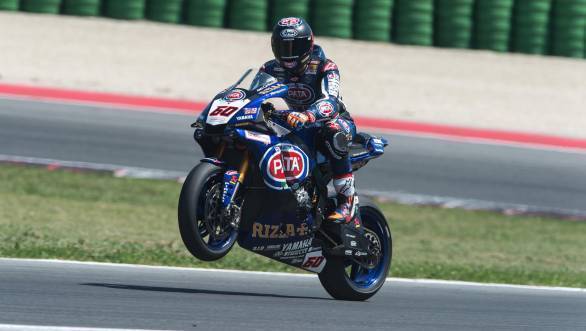 Michael van der Mark will replace Valentino Rossi at Yamaha for the Aragon GP
At the race at Aragon, the 24-year-old Dutchman will be supported by Rossi's race crew. It will be weekend of tremendous learning, as van der Mark will debut in the premier class without any prior experience on the motorcycle. He, however, is no stranger to the pressures of riding for a factory team, having won the Suzuka 8 Hours three times, most recently this year with the Yamaha Factory Racing Team. He has also competed in nine races in the 125cc class of the MotoGP championship, and has one race in the Moto2 class under his belt.
Lin Jarvis, the managing director of Yamaha Motor Racing said, "Following Valentino's crash on Thursday, August 31st, Yamaha decided not to replace him at the San Marino Grand Prix, but for the next Grand Prix in Aragón the team is obliged to enter two riders. It being virtually impossible for Valentino to be fit to race in Aragón, Yamaha decided to search for a capable replacement from within its own pool of contracted riders. Having previously used Katsuyuki Nakasuga to fill in for Jorge Lorenzo in 2011 and Alex Lowes to replace Bradley Smith in 2016, we decided that Michael van der Mark should have the opportunity this time around. It is never easy to step in to replace another rider and even more difficult to replace Valentino Rossi, but we believe that Michael has all the credentials and experience to do a good job."
Meanwhile, van der Mark said, "I'm excited to be given the opportunity to ride the YZR-M1 at the Aragón MotoGP round. I've never ridden a MotoGP bike before, so this will be a completely new experience for me. I'm very curious to see what it feels like to ride on such a machine. I realise that it won't be easy going straight into an official practice session without any prior testing. Nevertheless, I'm very grateful to Yamaha for the opportunity. I'm sure it will be a great learning experience."