MotoGP 2017: Marc Marquez takes victory at COTA
Marc Marquez has now claimed five victories at the Grand Prix of the Americas. Which means he's the only MotoGP rider to have won at the American circuit. His fifth win, in a row, was at the recently concluded third round of the 2017 MotoGP World Championship. A race that saw Maverick Vinales, who won the opening two rounds of the championship, crash out.
Marc Marquez on his way to victory at the Circuit Of The Americas. His fifth in a row at the track.
It was Marquez who took pole position at the American track that he seems to know like the back of his hand. What was expected from the race was a close battle between the Yamaha of Maverick Vinales, and the Repsol Honda of Marquez. However, Vinales, 2017's wunderkind, crashed out of fourth place, ending his hopes of three wins in a row.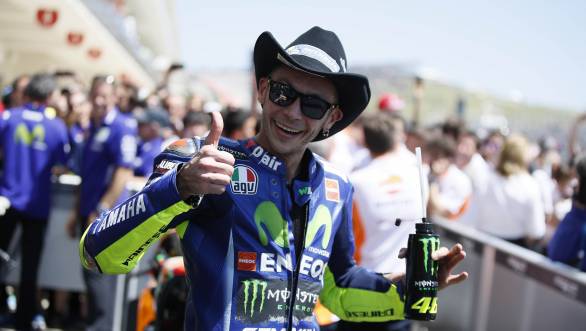 Second place helps Valentino Rossi move into the lead of the 2017 MotoGP Championship Standings
This played nicely into the hands of Marquez, who went on to win the race. It also worked very well for Valentino Rossi who moved to the top of the championship standings, after a second-place finish at COTA helped him wrest the lead from his team-mate.
Sheriff of the COTA? Can't argue with Marquez about that!
While Marquez won the race, and Rossi took second, it was a formidable Dani Pedrosa who made it to third place at Texas. Pedrosa led the race for some time during the early stages, even making it difficult for his team-mate Marquez to swoop into first place. Eventually, though, the younger Spaniard managed to do just that. Even though Pedrosa chased him down for a while, putting pressure on his team-mate, things didn't go his way.
Surprise performance from Dani Pedrosa, who led the race early on, and eventually finished third.
During the closing stages of the race, Rossi managed to get closer to Pedrosa, make a move for second place, and open up the gap to the Honda. Of course, Rossi was given a penalty, one that would prove fairly unpopular, for gaining an advantage after running off track in order to avoid a collision with Johann Zarco. Fortunately the penalty didn't affect his race position.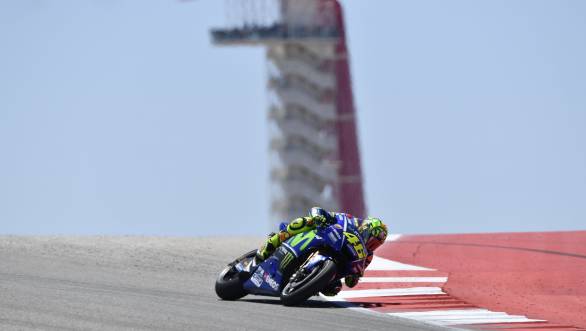 Rossi's was the lone Yamaha to finish at the COTA, with Maverick Vinales crashing out
Cal Crutchlow took fourth position, having made his way past Zarco who ultimately settled for fifth. Andrea Dovizioso took sixth place on the factory Ducati, with Suzuki's Andrea Iannone finishing seventh. Eighth place went to Danilo Petrucci on the Pramac Ducati, while Jorge Lorenzo could do no better than ninth place on his factory GP17. Tenth place went to Jack Miller on the EG 0,0 Marc VDS Honda.