MotoGP 2015: Rossi regains championship lead after Silverstone win
Valentino Rossi of Movistar Yamaha retook the lead in the 2015 MotoGP Championship with his first win at Silverstone in the British Grand Prix. The race was originally declared dry, but after the formation lap, all the riders went into the pits to change tyres when it started to rain. The race was red-flagged and a thirty minute delay was announced to allow the riders to get back on the grid after the tyre change.
When the lights finally went out, Rossi got a good start and worked his way up to the front from fourth in just the second lap. He started to pull away at the head of the pack with only Repsol Honda's Marc Marquez keeping pace. They gradually opened the gap with a lead of seven seconds from Octo Pramac Racing's Danilo Petrucci, who was in third. Eventually though, Marquez crashed out on lap 13 to end any chances of defending his title. On his win, Rossi mentioned, "I'm very happy and proud of this victory, it's a great feeling! I think that the last race on the wet that I won was ten years ago."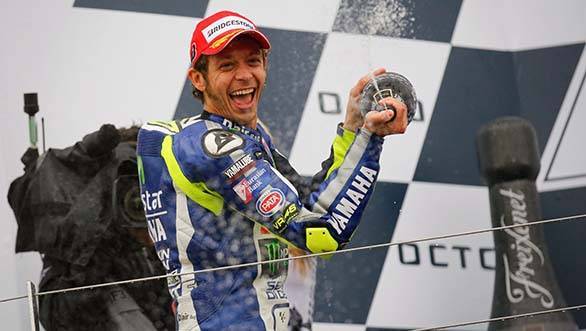 Petrucci, who battled it out with Ducati Team's Andrea Dovizioso finished second to take his first ever podium finish. Dovizioso, the former 125cc world champion, finished third after starting 12th on the grid. Petrucci closed the gap with the race leader to 1.6 seconds at one point before Rossi buckled up and pushed harder to finish 3.01 seconds ahead of Petrucci.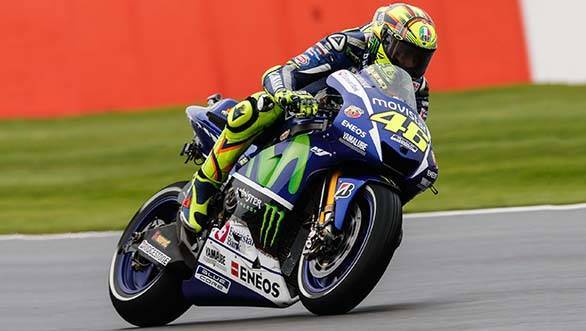 Jorge Lorenzo, Rossi's team-mate and main championship rival, didn't have his usual pace as he dropped to sixth at one point in the race before pulling himself together and finishing fourth. Dani Pedrosa on the second Repsol Honda secured fifth, over five seconds behind Lorenzo. He was in the fight for a podium finish in the early stages of the race before he fell back to fifth. Cal Crutchlow and Jack Miller of LCR Honda were in a fight for third until both of them retired after Miller crashed into Crutchlow with eight laps left to go.
Six races remain this season with Round 13 of the MotoGP being held at San Marino between September 11-13. Rossi leads the championship with 236 points with Lorenzo and Marquez following with 224 and 159 points respectively.