MotoGP 2015: Jorge Lorenzo wins the Spanish GP
The fourth round of the 2015 MotoGP world championship at Jerez in Spain witnessed the resurgence of Movistar Yamaha rider and double world champion Jorge Lorenzo. In what was a textbook race, the Spaniard led from lights to flag and in the process joined the list of champions probables for the 2015 season.
Qualifying on pole, Lorenzo shot off into the first corner, managing to stay ahead of Repsol Honda rider, Marc Marquez who tried to cling on desperately. Championship leader, Valentino Rossi, who started on fifth, jumped to fourth in Turn One and immediately began to pile the pressure on Pol Espargaro on the satellite Yamaha.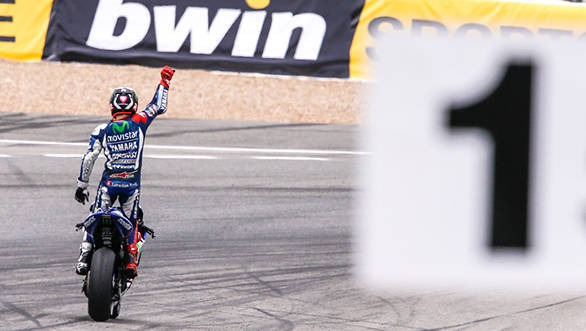 After the first few laps, Lorenzo settled into his rhythm and then on it was no looking back. Marquez, who was nursing a broken finger, put on a brave challenge and the two began pulling away from the rest of the field.
Aware of the consequences of letting the two get away, The Doctor, finally made a move on Pol Espargaro and rose to third on Lap Four. Rossi then began chasing Marquez down in what seemed like a repeat of the Argentinian GP. Slowly and steadily, Rossi began closing in on the defending champion with the gap at one stage reduced to just over a second. The next few laps had everyone on tenterhooks as the pair's clash in Argentina was still fresh.
This time, however, Marquez rode with maturity as he managed to maintain a steady gap, look after the tyres and pull away in the closing stages to finish six seconds ahead of Rossi.
Rossi later elaborated, saying, "It was a difficult weekend. From Friday on we were struggling a lot to find the right setting and I wasn't able to ride on the maximum level. In the end it's a podium, so it's not so bad, but also in the race I wasn't strong enough to fight with Jorge and also with Marc. Especially entering the corners I wasn't at 100 per cent. I had one moment in the race where I was not doing so bad and I was close to Marc. We hoped for another good fight until the end and I thought I could do it, because I got the gap down to one second, but had to give up."
Meanwhile, Lorenzo simply pulled away from the duo as he rode with the precision of a surgeon, never putting a wheel off the racing line. In fact, Lorenzo set a new circuit record, registering a lap time of 1 minute 38.735 seconds. He also maintained consistent lap times that only fell into the 1 minute 40 seconds bracket by Lap 16. To put things into perspective, Marquez and Rossi were lapping in that time bracket by Lap 12 and Lap 13 respectively.
Lorenzo was ecstatic after the win. Returning to the podium after suffering setbacks in the first three races of the season, the 28-year old Spaniard felt positive about his return to a competitive form.
Speaking after the race Lorenzo said, "This time everything felt fine at the start of the race. I could brake late and enter very fast into the corners. I had a good corner speed and good grip in acceleration. When you are like that, you have to do give your maximum to try to win this race. The problem was that I was very extremely fast at the beginning, in '38.7, but Marc was the same! He was close until the fourth of fifth lap when I could get a small advantage. Later I was able to increase his advantage but I had some vibration from the rear around Lap 17 so I thought I had to be careful. But after it came normal again. So I could breathe, just go for it and win this grand prix, which is very special. Jerez is the most special track you can win at."
Marc Marquez too was amazed at his compatriots race pace and said that Lorenzo's win was convincing and had nothing to do with him riding with a broken finger. Marquez was quoted, "I tried to win but today when I was behind Jorge and I saw the way he was riding, I thought 'okay today is the day for Jorge. My place is second'."
Valentino Rossi leads the 2015 MotoGP World Championship with 82 points. Ducati rider Andrea Dovizioso, who had a terrible race due to engine braking issues, is second with 67 points. With the win at Jerez, Lorenzo now moves into third position with 62 points and Marquez stands fourth with 56 points.
The next round of the championship will be held at Le Mans in France on May 17, 2015.