MotoGP 2014: Marc Marquez wins at Silverstone
Marc Marquez took his eleventh win of twelve races of the 2014 season, returning to winning ways in style. The Spanish rider, who has only faltered once this season when he failed to win at Brno, took the win at Silverstone from Yamaha's Jorge Lorenzo and Valentino Rossi.
Marquez's move on Lorenzo appeared to be rather aggressive, although it seems there's no love lost between the pair
Going into the race, it was Marc Marquez who was on pole at Silverstone, but as it so often happens at the start of a race, the order got mixed up at the very beginning. It was Jorge Lorenzo who moved into race lead at the very beginning, with Marquez's Repsol Honda following closely. Aleix Espargaro and Andrea Dovizioso followed, with Rossi and Pedrosa tailing them. And while there was plenty of swapping of places from third spot on track onwards, the order at the head remained unchanged. Lorenzo led the race, setting the pace all through, with Marquez in tow.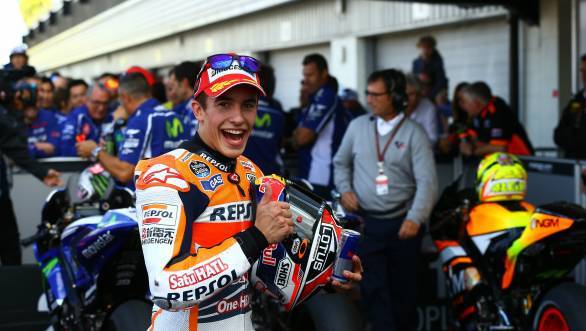 Eleventh win of twelve races clearly make Marquez a happy defending MotoGP champion!
Marquez had to wait until Lap 14 before he got to the front of the pack, with a move on Lorenzo at Stowe. After which it really did appear that he'd do what he does usually - increase the gap at the head of the order and claim the top step of the podium. Pedrosa, however, had other ideas. He'd begun to hunt down Marquez and eventually reclaimed the lead on Lap 16. But with two laps to go to chequered flag, Marquez made a move on Lorenzo, forcing him to stand up. It was a move that was deemed aggressive, but not something that appeared to rile Lorenzo too much. He settled for second, with Rossi, having battled Pedrosa, taking third. The second Repsol Honda had to settle for fourth on the grid.
Andrea Dovizioso, Pol Espargaro, Stefan Bradl, Andrea Iannone, Aleix Espargaro and Scott Redding made up the top ten finishers.