MotoGP 2013: Marc Marquez wins at Brno
When Marc Marquez burst onto the MotoGP scene, he was already a rider that people were keeping their eye on. He had earned the moniker Marquez the Merciless during his Moto2 stint, and has set about making his Marc, er, mark on MotoGP the minute he entered the tournament earlier this year.
He first broke Freddie Spencer's record of being the youngest rider to win a MotoGP race. He then went and broke Spencer's record of being the youngest rider to win consecutive MotoGP races. And at Brno, Marquez won his fifth race of the season becoming the only rookie to win five races in his debut MotoGP campaign.
Let's look at how things progressed at Brno. Cal Crutchlow was on pole, with Alvaro Bautista behind him and the Hondas of Marquez and Dani Pedrosa in third and fourth. But when the five red lights went out on the Brno track, there was simply nothing that Crutchlow could do to keep himself at the head of the pack. It was Jorge Lorenzo who stormed into the lead from his second row start, with Marquez second, Dani Pedrosa third. Crutchlow was down in fourth place. Unfortunately for the Tech 3 Yamaha squad, it wasn't to be a particularly good race for the team. First it was Bradley Smith who went out of contention when he crashed out. Next, Crutchlow crashed too, picking the motorcycle up and managing to get going again but certainly out of contention for a podium.
Pedrosa and Marquez look like happy team-mates with a one-two finish
The men in contention of the podium were pulling away from the rest of the grid steadily. Lorenzo was increasing his lead over Marquez, while Dani stuck close to his young team-mate. But, it was evident all through that Marquez was biding his time, waiting for the right moment to strike. And strike he did. First he had a quick peek down the inside of the Yamaha, settling back into second for a little bit. There were just seven laps to go and Marquez had decided that it was on this very lap that he had to make his move on Lorenzo. So, at the end of the lap he went past him mid-corner and into race lead. Lorenzo tried to move back into the lead at the final chicane,but Marquez was having none of it. Once he took to the head of the pack, he stayed right there. That was all the inspiration that his team-mate needed - Pedrosa too made his way past Lorenzo to take second. And that was the order in which the leading trio would finish the race.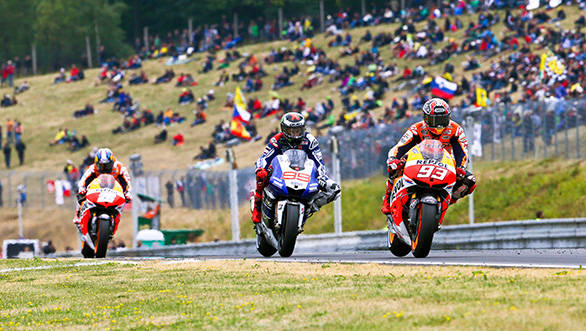 Marquez on his way to victory at Brno, with Lorenzo second and Pedrosa chasing the Yamaha to steal that spot
What of Valentino Rossi? The Good Doctor didn't have an easy race at Brno, but he certainly did fight valiantly. Rossi started the race in seventh and battled through to a commendable fourth place. Indeed, it was a little like his previous race at Indianapolis where he battled both Crutchlow and Bautista to finish fourth. This time there was just Bautista to deal with and Vale dealt with him ably, if not swiftly.
Marc Marquez now heads the championship standings with 213 points followed by team-mate Pedrosa who has 187 points. Jorge Lorenzo is currently third with 169 points, while Valentino Rossi has 143 points to his credit. Things certainly are looking good for Marquez right now. Will he extend his lead over the rest of the grid further at the British round of the championship on the 1st of September? We'll wait and watch!