Moto Guzzi launches MGX-21, V9 Bobber and Roamer in India
Italian motorcycle manufacturer Moto Guzzi today announced the launch of the MGX-21, V9 Bobber and Roamer motorcycles in India. The MGX-21, positioned as the most premium offering, is priced at Rs 27.78 lakh, whereas the V9 Roamer and Bobber are both priced at Rs 13.99 lakh (prices ex-Pune). The new offerings will be available through the Motoplex dealerships in Pune, Chennai, Kochi, Hyderabad and Chennai.
The Moto Guzzi V9 Bobber and the Roamer were unveiled at EICMA. Moto Guzzi started taking bookings of the V9 Roamer and Bobber in India in May this year. Both are powered by a new 850cc V-twin motor which makes 55PS of power and generates 62Nm of peak torque. The new motor complies with the Euro-IV emission norms. The Roamer also runs on 19-inch/16-inch front/rear tyres while the Bobber uses a broader 16-inch tyre at the front. The V9 Roamer and the Bobber target the enthusiasts who want a custom motorcycle and are offered with a long list of accessory options. They come equipped with the latest tech that includes dual-channel ABS and traction control.
The Moto Guzzi MGX-21 was first showcased as a concept at the 2014 EICMA. Powered by a 1,380cc V-twin motor, the MGX-21 too comes equipped with ABS, adjustable traction, ride-by-wire accelerator and cruise control. The most unique bit of the Moto Guzzi MGX-21 is that it's finished entirely in black and carbon fibre. The Moto Guzzi MGX-21 will compete with the offerings from Indian Motorcycles and Harley-Davidson.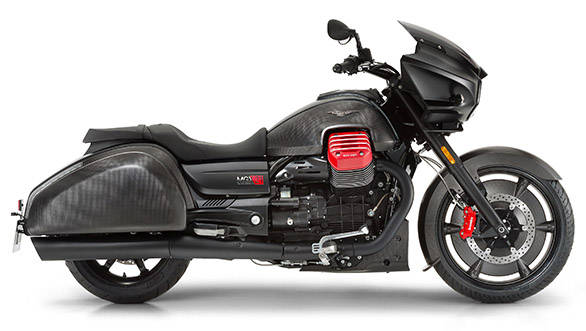 Stefano Pelle, managing director and CEO, Piaggio Vehicles Private Limited (PVPL), said, "It is a proud moment for us at the Piaggio Group as we bring to India these exclusive bikes from Moto Guzzi. Their launch in India coincides with the 95th anniversary of the brand. We aim to reach out to patrons in India across all segments with our diverse product range from Vespa, Aprilia and now Moto Guzzi at varied price points."
The MGX-21, V9 Roamer and Bobber add to Moto Guzzi's present portfolio of Indian models that include the Audace, ElDorado, California Touring 1400, California Touring Custom and Griso SE.