More companies say no to Auto Expo 2018, claim costs prohibitively high and returns low
Vehicle making companies who have decided against participating in the 2018 Auto Expo has ballooned more than four times compared to the previous edition of the biennial extravaganza. In the 2016 Auto Expo, seven companies had opted out. A total of 32 car and bike making companies including big names such as Bajaj Auto, Jaguar Land Rover, Volkswagen, Harley Davidson, Ford, Ashok Leyland and Nissan will not be participating in the event that starts on February 8, 2018. A back of the envelope calculation shows a revenue loss of a minimum of Rs 320 crore considering minimum average spend of Rs 10 crore by each brand.
With the Expo now largely focused on the car and sports utility vehicle-making brands, motorcycle, truck and bus makers have found little synergies with the event, thus becoming the one of the other main reasons from staying away from the event. Each of the eight brands of Volkswagen (Volkswagen, Skoda, Audi, Ducati, MAN, Scania, Porsche and Lamborghini) have pulled out from the event. This is the first time since its debut in India when VW will not be participating. Fiat, Jeep, and Royal Enfield are among others who were a part of the event in the recent past but have decided against it this time.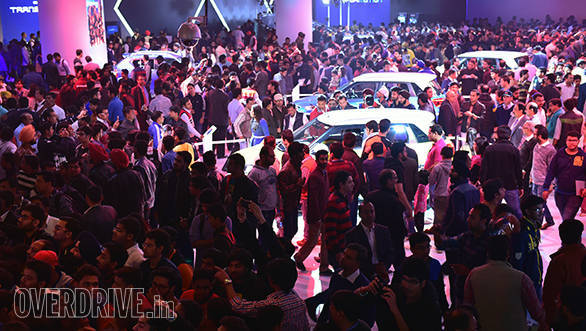 Commercial vehicle makers like Ashok Leyland, VE Commercial Vehicles, Volvo, MAN, Scania and Daimler won't be participating in the Auto Expo but some of them have instead decided to be a part of the construction equipment-focused event EXCON, which will be held in Bengaluru starting December 12. Trucks and buses need a very large display area compared to cars or motorcycles which in turn translates to higher costs.
Speaking on condition of anonymity all company executives Moneycontrol spoke to blamed high costs as the main deterrent towards participation. Each company spends a minimum average of Rs 10 crores for a medium-sized stall that allows display of at least seven products. The spending can skyrocket even to Rs 30 crore depending on the budget allotted by each company. These are spent on not just embellishments but also on other activities such as outdoor events for better consumer connect and for promoting the concept of safe driving.
The 2018 Maruti is expected to be showcased at the 2018 Auto Expo in India
Many brands also invite movie and sports celebrities who charge anywhere between Rs 2-8 crore for a single appearance. Sachin Tendulkar, Priyanka Chopra, Ranbir Kapoor, Katrina Kaif, Virat Kohli and Akshay Kumar had been part of the event in 2016. "We are living in a digital age where the target audience seeks updates on the mobile phone rather than travel to Greater Noida which is not very near to Delhi", said a senior executive from a Delhi-based car making company.
Many companies have either announced their product line up for India or have nothing new to showcase. Some others, especially Indian companies, believe that showcasing a probable future concept, is exposing product plans to the competition. Besides companies consider a pre-Expo press event as a much cheaper alternative to the real Auto Expo. These events normally costs around Rs 30-50 lakh depending on the hotel. "Such a media event will not just save on costs but give us the same level of publicity that a seven-day event can provide", said another manufacturer.
"India is positioned as one the top automotive markets and the Auto Expo is one of the largest in the world. But if auto companies show little interest like this then the world will sit up and take notice", said another executive from a Chennai-based firm. Despite the loss, the event will see participation from its regular members such as Maruti Suzuki, Hyundai, Tata Motors, Mahindra, Honda, Renault, Mercedes, BMW, TVS, Hero, Honda and Yamaha. New entrants like Kia and Kawasaki are ready to make some noise too.
[ This article originally appeared on Moneycontrol.com ]
Price (Ex-Delhi)
Starts Rs 5.73 Lakhs