Mixed bag for Aditya Patel at Round 2 of the International GT Open at Portimao
Aditya Patel and team-mate Cesar Campanico had a rather mixed weekend at the second round of the International GT Open at Portimao. The duo who currently pilot an Audi R8 LMS for Team Novadriver had a slow start to the weekend with Friday practice, but gradually managed to pick up the pace in the qualifying session, putting their car fourth on the grid with Campanico behind the wheel. Race 1, the longer of the two races, saw Cesar do well, moving the car into second place in the GT3 class after which he handed the car over to Patel. Aditya put in considerable effort over the course of the next two laps and managed to take the race lead in the GT3 class. But it wasn't a place that he was able to retain, with three Ferraris getting past him, forcing the R8 off the podium. "I knew I had my work cut out but I really didn't expect those cars to be running as fast as they were! The car felt great to drive and no matter how hard I tried, I could only watch as they drove by my car on the long straight here at Algarve," Aditya said.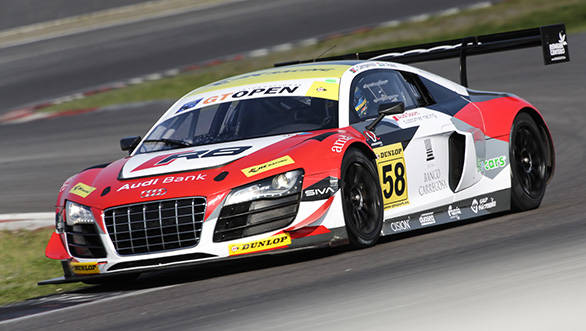 The second race had disappointment in store for the team-mates as things went from bad to worse. Starting 13th on the grid and eighth in the GT3 class, Aditya lost places at Turn 1 on the first lap. The fact that the Team Novadriver R8 LMS Ultra also developed a problem with the throttle pedal meant that they further lost positions. When Aditya got stuck behind a slower car he decided to pit and hand the car over to his team-mate. Campanico then made up positions, moving from 12th to seventh, before being hit by another car. However he managed to bring the car home in eighth place, helping them gather some valuable points.
Both drivers agreed that the race was hard and something they'd like to forget soon. "Nothing went in my favour right from the start," Aditya declared. "That, coupled with a throttle issue and lack of straight line speed made things hard for me. Overall, it wasn't the best of weekends but it was a track where we knew we would have a hard time due to lack of speed compared to the competition."
The duo now shift their attention to the next race at Jerez where they hope to do better. We'll keep you posted on their progress.
Price (Ex-Delhi)
Starts Rs 2.55 Crore