Michelin tyres are now available online in India on Snapdeal
Michelin, one of the bigger tyre brands in India, has announced its association with online platform Snapdeal, to retail their passenger car tyres. The new tie-up connects all the brand's dealerships spread across the country. Michelin will also be offering exclusive discounts on their products through the e-commerce site.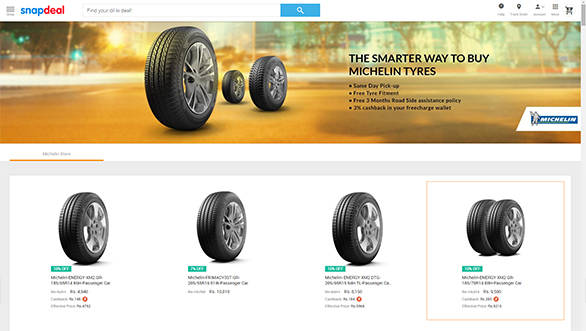 Consumers can order their Michelin tyres online from an authorized dealer and request for fitment at a time and place of their choice. The tyre selector feature on the website allows the consumer to select his desired tyre. This is followed by choosing the closest Michelin dealer and booking a tyre fitment appointment. The consumer has the option of availing free fitment on the same day, as well as access to services like alignment and balancing.  The company has aslo stated that all passenger car tyres sold through Michelin authorized dealers on Snapdeal are guaranteed by Michelin.
"As part of our initiative to redefine the way tyres are bought and sold in India, we are pleased to bring this unique opportunity to our Indian consumers via Snapdeal," said, Mohan Kumar, commercial director, Michelin India. He added, "Snapdeal with its large subscriber base and pan India reach has been an obvious choice. We believe this new channel will augment our existing distribution and enable our dealers with a parallel sales pipeline. For consumers, this would mean a quality guarantee on the fitment process, which is critical for tubeless tires"
Badal Malick, vice president, Omni Channel, Snapdeal said, "We are excited to partner with Michelin to offer the most seamless experience to our customers for tyre purchase and fitment. Our recently launched omni channel platform, Janus, will deliver the convenience of online product discovery and offline installation services at the nearest location. We are confident that this unique first-of-its-kind service for this category, will deliver real value for our customers."