MG Motor India inaugurates first showroom in the country
MG Motor India will be starting its new journey in the country with the Hector SUV.  The  company has inaugurated its first experience store at Milestone Experian Centre, Sector-15, Gurugram. MG has confirmed that its widespread network of 120 centres will be further expanded to 250 centres located across the country by September this year. Customers who have booked the Hector for Rs 50,000 as well as those who are interested in the SUV can reach the dealerships from June 15 onward for test drives of the MG Hector.
The company mention that these flagship stores will be unlike typical car showrooms as it features a unique visual treatment. On the exterior, the front fascia of MG's dealerships adopts a façade grill in the shape of an upturned mountain that signifies the confluence of sky and earth. Inside, the store demonstrates the brand's experience-first approach that aims to captivate all the five senses of its prospective customers through intelligent and creative elements. "Our first interaction with the customers in a creative and experiential environment is essential for the MG brand and creates a strong foundation as we begin our journey in India. The one-of-its-kind flagship experience store redefines the traditional car buying experience in India, in line with the demands and requirements of new-age customers," commented Rajeev Chaba, President and Managing Director, MG Motor India.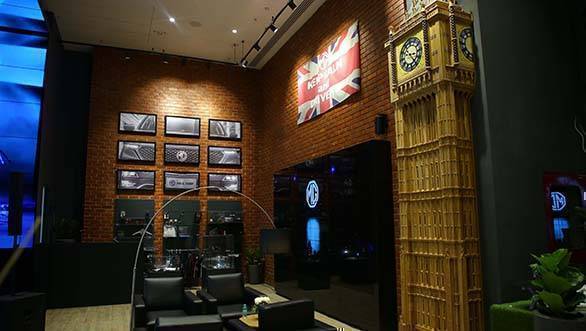 Some of the highlights of the MG Motor India's showroom are British cultural icons such as the Big Ben, the Union Jack, telephone booths and street lamps that have been incorporated as design elements. There is also a 1965 MG Midget on display to vindicate MG's rich legacy in the gone years. Visitors can configure their vehicles with the choice of model, transmission type, and fuel variant, before proceeding to customise the look, feel and accessories that their MGs will come equipped with. At 55 inches per screen, the configurator wall has the largest live configurator screen and is set up in a 6-by-6 format (36 screens).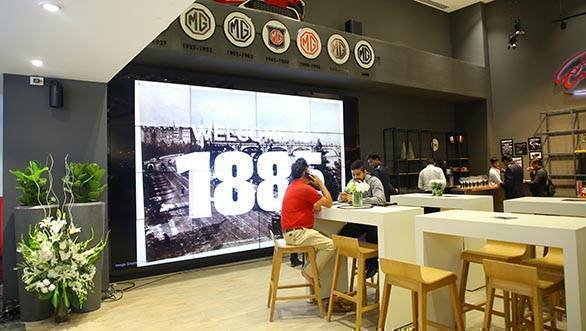 MG Motor India has made an investment of Rs 150 crore and has inaugurated its new corporate headquarters in Gurugram. This Indian headquarter of the British automobile brand will also house the company's flagship showroom along with a brand store on the ground floor showcasing its entire range of products, brand's heritage and also MG memorabilia and accessories. MG's new office is spread over 46,000 square feet and will be operational in the next two months before the official launch of the Hector SUV in the country.
Also read, 
MG Hector SUV bookings open in India
MG Hector SUV to sport 19 exclusive features – launch next month
Image Gallery: MG Hector unveiled in India

MG Hector SUV: Specifications, features and variants explained
Also see: MG Motor - SAIC Lineup - First Look
Price (Ex-Delhi)
Starts Rs 12.9 Lakhs