Mercedes to reveal the AMG GT on September 9
Mercedes' highly awaited successor to the already iconic SLS AMG, the AMG GT will make its official debut in a few days. So far the car has been captured testing on numerous occasions and a few details have already surfaced. Here's what we know about the AMG GT.
The biggest news with the AMG GT is that it will be the launch pad for the all new 4.0-litre twin turbo V8 engine. This is the engine that will replace the current 5.5-litre that powers most AMG cars today. Post the AMG GT, this engine will power the upcoming C 63 AMG before gradually making its way into the rest of the AMG fleet. At its debut, we expect the engine to produce around 500PS of power but the engine will definitely be massaged for more power in the future. Audi also runs a twin-turbo V8 in its RS models and that motor makes upto 560PS. Mercedes' AMG performance arm has mastered the art of squeezing big, reliable power out of their motors so expect them to easily match, or even surpass Audi's power figure in the future. Mercedes also promises that they have done extensive work to ensure the turbo set up will not corrupt the glorious V8 soundtrack AMG cars are so loved for.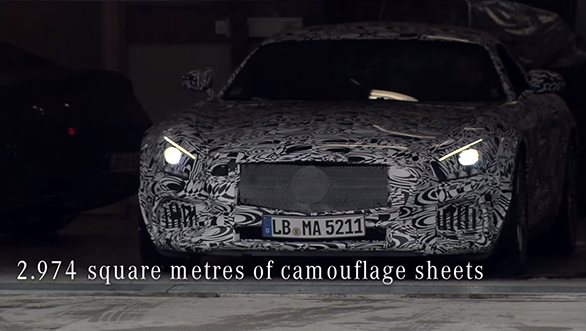 Visually the AMG GT follows a similar design philosophy to the long, low and ever so sleek SLS AMG. In fact the company has even suggested that under all that camouflage is one the most attractive cars they have ever designed. Of course you can be the judge of that when the covers finally come off on September 9. Until then, have a look at this teaser that Mercedes-AMG has released on YouTube