Mercedes-Benz showcases the vintage-themed Vision Simplex concept
Mercedes-Benz had showcased the Mercedes Vision Simplex, a concept that symbolises the brand's growth into one that further goes on to exemplify technology and luxury. The Vision Simplex's design draws inspiration from a momentous car from its history, the Mercedes 35PS from 1901.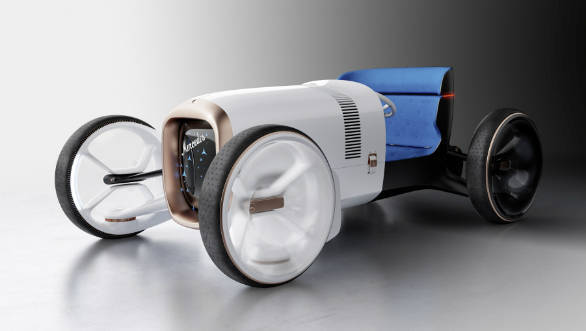 The 35PS was developed with the suggestion of Emil Jellinek, a regular customer of the Daimler-Motoren-Gesellschaft to make an appearance at the Race Week in Nice that year. It featured a new design architecture and enough technological improvements to now be considered the first modern car, and not just a motorised carriage. It featured a less top-heavy construction and was longer and wider with a lowered centre of gravity.
The Vision Simplex takes this theme of technological advancement and reinvents it for the current and future era of Mercedes cars. It gets those outboard wheels, a vertically oriented body structure replete with a vintage style grille finished in rose-gold and period-correct Mercedes lettering. This also doubles up as an information display. Other noticeable bits are the design of the wheels themselves, which depict lightness, the two-tone paint scheme and the leather luggage compartment at the rear which denotes craftsmanship.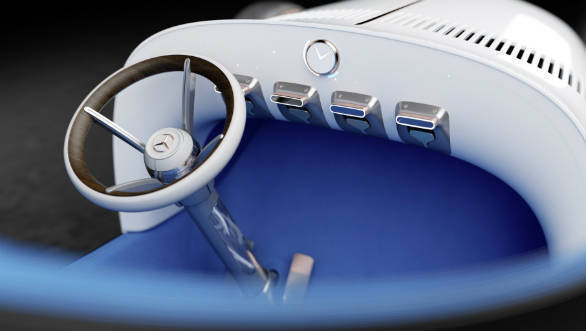 The interiors of the Vision Simplex are again a homage to Mercedes' heritage. The steering column and the switches on the instrument panel take inspiration from motorcycles and from nautical vessels. This is accentuated by the jewelled detailing and contrasting colour schemes. High-end furniture design was the inspiration for the seats and storage compartments. The Simplex's user interface also follows this theme of lightness and luxury and depicts only the information that is needed by the driver.
There are no details on what powers the Simplex concept other than that fact that it isn't a conventional ICE.