Mercedes-Benz India begin local production of the CLA sedan and GLA 200 Sport
Mercedes-Benz India has announced the commencement of local production of its entry level sedan the CLA in India from today onwards. The German company also stated that India is the only country outside Europe to produce the CLA.
The company says that local production will help in reducing waiting time and cater to the demand that is expected to surge during the upcoming festive season. Mercedes-Benz India will produce, both petrol and diesel CLAs in India. Localisation also means that the company can pass on benefits ranging from Rs 1 lakh to 2 lakh to customers.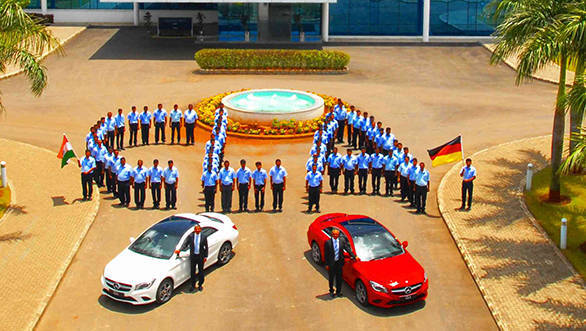 Speaking about the local production of both models, Eberhard Kern, managing director and CEO, Mercedes-Benz India said, "The CLA with its stunning design, technological innovations and multiple segment first attributes, is already a winning product in our portfolio. It has been rapidly acquiring new customers to the brand and replicating its global success in India as well. We are extremely satisfied with our CLA strategy, which has contributed majorly to our New Generation Cars growth and redefined the segment completely. We are confident that the local production will make the CLA even more attractive for the discerning buyers with additional value propositions and increased availability."
In addition to the CLA, Mercedes-Benz India will also begin production of the GLA 200 Sport petrol. Local production of the diesel trims of the GLA had started a couple of months ago.
The locally made CLA is now priced from Rs 30.70 lakh for the 200 CDI Style (down from Rs 31.5 lakh), Rs 32.90 lakh for the petrol 200 Sport(down from Rs 35 lakh) and Rs 33.90 lakh (down from Rs 35.90 lakh). The locally produced petrol GLA 200 Sport is priced at Rs 33.90 lakh, revised from the earlier Rs 36 lakh. All prices are ex-Delhi.
Mercedes-Benz commences the much awaited local production of India's sportiest luxury sedan- the CLA
Pune: India's leading luxury car brand Mercedes-Benz, announced today the much awaited start of the local production of its sporty and stunning luxury sedan, the CLA. The stylish, distinctive and sporty CLA has been a key model in Mercedes-Benz's product offensive globally, as well in India. The seventh product to be produced in India, the CLA was rolled-out of Mercedes-Benz's new production facility by Eberhard Kern, Managing Director & CEO, Mercedes-Benz India and Piyush Arora, Executive Director, Operations, Mercedes-Benz India. "The CLA with its stunning design, technological innovations and multiple segment first attributes, is already a winning product in our portfolio. It has been rapidly acquiring new customers to the brand and replicating its global success in India as well. We are extremely satisfied with our CLA strategy, which has contributed majorly to our New Generation Cars growth and redefined the segment completely. We are confident that the local production will make the CLA even more attractive for the discerning buyers with additional value propositions and increased availability." commented Eberhard Kern. Piyush Arora added"The start of local production of the CLA simultaneously in petrol and diesel variants is a key decision that will help curtail the long wait list for the sedan. Our 'future readiness'withthe new manufacturing facility is bearing fruits as we started the production of both the CLA and thepetrol GLA from the new assembly lines. We are glad to offer world-class products to our Indian customers with significant local value addition, in the shortest possible time." A stunner on the road: CLA's stunning features include the bonnet embedded in the front end with powerdomes and the diamond radiator grille. The light modules and LEDs behind the headlamp cover glass create the characteristic "flare effect" for the daytime driving lights and indicators. The progressive and sporty exterior appearance is continued inside the CLA. The interior gets a very special quality feel from the selection of highqualitymaterials combinations. Mercedes-Benz India. E-3, MIDC, Chakan. Tal: Khed. Pune- 410501, India. Tel: +91 2135 673000 / 395000, Fax: +91 2135 673953 With its large glazed areas, the CLA's Panoramic sunroof ensures a particularly bright and welcomingambience in the interior. Power packed performance:The CLA's 4-cylinder engine boasts of agile performance, segment leading fuel efficiencies and low emissions. The 4-cylinder turbocharged diesel engine returns 17.9 kmpl and produces 100kW(136 hp)of power and a maximum torque of 300 Nm. The 2 litre petrol engine produces 135 kW(183 hp)of powerand a torque of300Nm. It accelerates from 0 to 100 kmph in 7.8 seconds with a top speed of 235 kmph. India specific suspension: The CLA's suspension is designed forIndian roads to maximize ride comfort with higher ground clearance and seating position. The sedan'slong wheelbase of 2699 mmprovides better ride comfort, greater handling and excellent driving performance,edging it ahead of its competitors. Segment Best Drag Coefficient:The CLA has the segment best drag coefficient for any luxury production car in India. This results in reduced wind noise andunparalleled comfort in the CLA. New Generation Multimedia system: The infotainment system offers Mercedes-Benz Apps such as Mercedes-Benz Radio.With user-friendly navigation, precise map data and excellent route guidance, the Garmin® MAP PILOTbringsall the familiar benefits of a Garmin® navigation system to the Audio 20 CD. This is done bysimply inserting an SD card with navigation software and map data sets and is available as a Mercedes-Benz Accessory for the customer.Reverse parking and manoeuvringis made convenient with a reversing camera, which is offered as standard on the CLA. Advance Assistance Systems: CLA'smultiple assistance systemalong with safety features like ABS, BAS, ESP, ASRandHill Start Assistsupports the driver in all possible situations. The sedan has a high structural safety of the body-shell with six airbags andother restraint systems providing the best possible protection.Innovative sensor Mercedes-Benz India. E-3, MIDC, Chakan. Tal: Khed. Pune- 410501, India. Tel: +91 2135 673000 / 395000, Fax: +91 2135 673953 technology is applied tocoordinate and activate the safety systems according to the given situation. These have ensured that the car has a 5 star rating from EURO NCAP.Assistance systems such as ATTENTION ASSIST warn the driver when it detects typical signs of drowsiness inthe driver's steering behavior while STEER CONTROL can assist the driver with corrective steering action in critical situations. Local production of the GLA 200 Sport: Mercedes-Benz India also commenced the start of production of the GLA 200 Sport petrol variant along with the CLA. The GLA 200 CDI is already under production from Mercedes-Benz's new production facility since June 2015. The customers can now avail the locally produced range of the GLA comprising both the petrol and diesel variant. Production highlights: The production of the CLAand the GLA involves use of technologically advanced synchronized conveyor systems, use of the latest generation PLC control units for all the equipment which provide adaptability with different models on common production lines, thus increasing the flexibility of the production. Mercedes-Benz India started locally producing the New Generation Cars in its global assembly network along with sedans and SUVs. Beyond the Mercedes-Benz plant in India, this network comprises further locations in Thailand, Vietnam, Malayasia, Indonesia, and will be joined by Brazil in 2016 where a new assembly plant is currently under construction. -
Price (Ex-Delhi)
Starts Rs 42.1 Lakhs