Mercedes-Benz preparing Concept Coupé SUV to battle BMW X4 and Audi Q4
Diamler AG gives a sneak peek of their upcoming BMW X4 and Range Rover Evoque rival.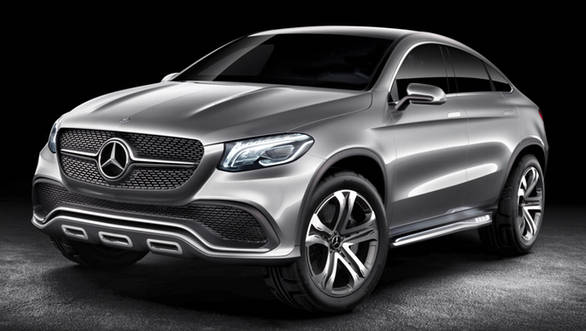 The Mercedes Benz Concept Coupé SUV is headed to the 2014 Beijing Motor Show
Looks like the 2014 Beijing Auto Show is going to be all about coupé crossovers. While BMW will debut its production-ready X4, Audi will show its competitor in the form of the Q4 Concept. Today, the third German luxury marquee, Mercedes Benz, has announced that they will bring a coupé-crossover concept to the Beijing Motor Show.
In fact, before the images leak out on the Internet in true Mercedes-Benz fashion, Daimler AG has tweeted an image that previews the Concept Coupé SUV. The tweet also confirms that the concept will make its public appearance in a couple of weeks. The image seen here seems to have been taken at the ongoing Daimler General Meeting for their investors.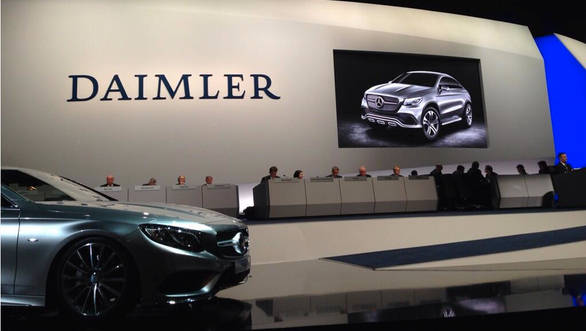 At an investor meeting, Diamler AG gave a sneak peek of what could be called the Mercedes Benz MLC - a coupé SUV.
While no information on the oily bits has been revealed, we speculate that the Mercedes-Benz Concept Coupé SUV will be powered by a hybrid powertrain. As you would expect, the Mercedes-Benz Concept Coupé SUV has a sportier styling than the entry-level GLA. It features a coupé-ish roofline, an SLS-AMG inspired grille and AMG styled, beefy bodywork. The concept in the image clearly looks like a production-ready design and we won't be surprised to see its road-worthy counterpart to show its face in a few months from now. We expect the model to be called the Mercedes Benz MLC, which will be positioned above the M-class.
When the Mercedes-Benz Concept Coupé SUV does make it to production, it will compete with the other coupé-crossovers like the BMW X4, the Range Rover Evoque and the production version of the Audi Q4.
Price (Ex-Delhi)
Starts Rs 70.5 Lakhs
Related Stories