Mercedes-AMG reveals its most powerful four-cylinder engine ever with 421PS
Mercedes-AMG has unveiled its new 2.0-litre M 139 series of engines. These are now the most powerful four-cylinder engines in the world and will be handbuilt at its Affalterbach facility. The engine will be available in two output. The standard version will make 387PS at 6500 rpm and 480 Nm at 4750-5000 rpm. The S version will put out 421PS at 6750 rpm and 500Nm at 5000-5250 rpm.
Unlike a regular front-mounted engine, the new AMG motor has been rotated around its vertical axis by 180 degrees. This means that the turbocharger and the exhaust manifold are now positioned at the rear and the intake system is in the front. This improves aerodynamics and allows for better cooling. The engine, as expected, features a single twin-scroll turbo, but now gets roller bearings for the compressor and turbine, just line in the 4.0-litre V8 in the AMG GT four-door. All of this has been done to make the engine smoother and free-revving, mimicking an N/A engine. The boost pressure for the turbo has gone up to 2.1 bar for the S and 1.9 for the standard version. Given its new placement, the engine cover and ducts below the bonnet are now used to deflect air from the front and cool the turbo. A demand-controlled, electric high-performance water pump also cools this and helps in maintain optimum engine temperatures. There is also two-stage fuel-injection now to improve fuel consumption and exhaust emissions.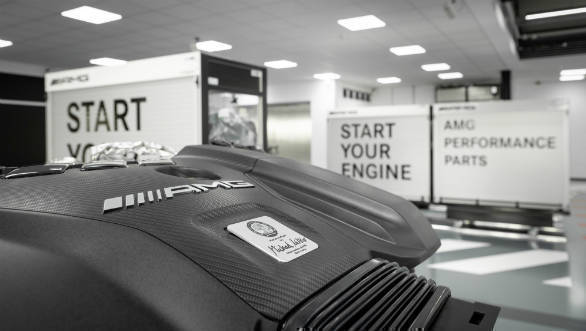 The all-aluminium crankcase is a chill-cast unit now. This means it has very string material properties and can handle peak combustion pressures of up to 160 bar.  This is paired with a lightweight, forged steel crankshaft and forged aluminium pistons, allowing for higher engine speeds, again like a naturally aspirated motor. To reduce friction and increase strength between the pistons and cylinders, the linings are coated using a patented Nanoslide technology. Numerous changes have been made to the exhaust valve too to allow the engine to breathe better. Rounding off the changes is a new cooling system. A second radiator has now been placed in the wheel arch to this effect, aside from new pumps and circuitry.
In the construction of the new 2.0 litre motor, Mercedes-AMG has now supplemented its One Man, One Engine which a lot of new, technologically advanced tools and processes to improve efficincy and quality. Many instruments are no longer restricted by power-cables, while a new driverless cart transports equipment where the engineers need them.
The M 139 is set to debut in the Mercedes-AMG A 45 hatchback when it arrives in July. This will be followed by the its many derivates like the CLA45, GLA45 and so on.