Mercedes-AMG Project ONE hybrid hypercar to be unveiled at 2017 Frankfurt Motor Show
A teaser image of the Mercedes-AMG Project One hybrid hypercar was released by Mercedes-AMG ahead of its unveiling at the upcoming 2017 Frankfurt Motor Show. The hypercar is based on Mercedes-AMG's Formula 1 inspired hybrid technology. A collective power output of over 1,011PS from its petrol engine and electric motors gives the Mercedes-AMG Project ONE a top speed of over 350kmph.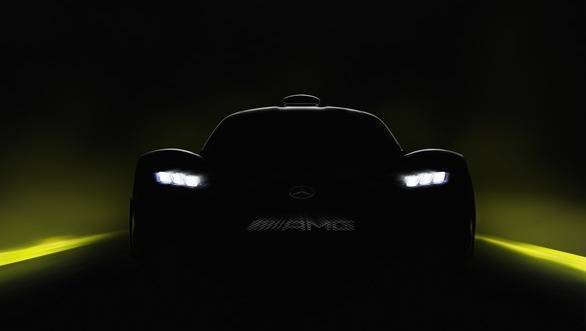 Mercedes-AMG Project ONE
At the heart of the powertrain lies a Formula 1 derived 1.6-litre 90-degree V6 turbocharged petrol engine that redlines at 11,000rpm. However, the torque output hasn't been confirmed yet. The turbocharger has a motor-generator unit installed on it, that spools the turbo to reduce turbo lag. Due to the high design tolerances to extract maximum performance, the engine wear and tear is quicker than usual. This results in the engine needing a rebuild by Mercedes-AMG every 50,000km.
The petrol engine on the Mercedes-AMG Project ONE powers only the rear wheels via a single-clutch transmission, while the electric motor in each of the front wheels makes the ONE an all-wheel drive car. The ONE can be run in all-electric mode albeit with a limited range of just 25km.
The chassis is made completely from carbon fibre. Mercedes-AMG claims that the car will weigh just over 1,300kg. The Mercedes-AMG Project ONE will be a limited edition hypercar with just 275 units to be produced and each car will cost about $2.5 million (Rs 16 crore). This Project One is Mercedes-AMG's entry into the hybrid-hypercar club where it will compete with the Aston Martin Valkyrie, Porsche 918 Spyder, the McLaren P1, and the Ferrari LaFerrari.