Mercedes-AMG GT Track Series introduced to commemorate 55 years of AMG
After introducing the Mercedes-AMG GT Black Series a few years ago, Mercedes now want to commemorate the 55th anniversary of the AMG brand with something even more special. The Mercedes-AMG GT Track Series makes its debut as a Black Series version exclusively tracks and sporting events purposes.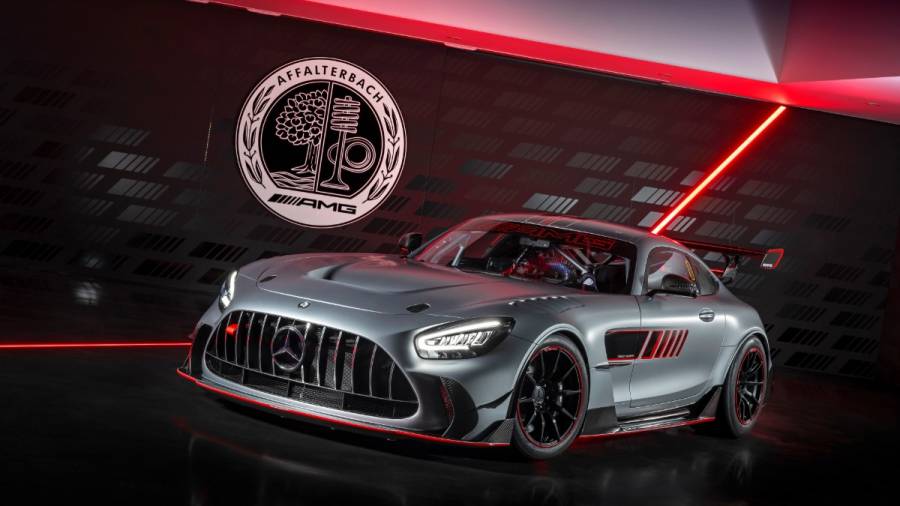 The Mercedes-AMG GT Track Series is a limited edition track machine. Considering the fact that it incorporates characteristics from the GT3 and GT4 racing cars, Mercedes-AMG believes that 55 units are good enough for the entire world.
The Mercedes-AMG GT Track Series also has four-way Bilstein dampers with high- and low-speed settings in the rebound and compression levels, as well as ride height adjustment. The Mercedes-AMG GT's enhanced aerodynamics, as well as the use of carbon fibre for the bonnet, wings, sills, back door, and rear apron, make the sports vehicle weigh in at 1,400 kilogrammes.
At high speeds, the front splitter, mechanically adjustable rear wing, and rear apron with double diffuser improve the vehicle's handling and stability. The distinctive high-sheen milled and forged 18-inch wheels are another particular creation for the Mercedes-AMG GT Track Series.
The Mercedes AMG GT Track Series is powered by the Mercedes AMG GT Black Series' 4.0-litre twin-turbo V8 engine. It has a maximum power output of 734PS and a maximum torque output of 850 Nm. This engine is mated to a Hewland HLS six-speed racing transmission with an adjustable differential that sends power to the rear axle.
The Mercedes-AMG GT Track Series' cabin incorporates a high-strength steel roll cage attached to the aluminium frame and a roof-mounted extraction hatch. The driver's safety cell is spacious and allows tall drivers to move about freely. It also includes a five-point safety harness and a foam-filled customizable ergonomic seat.
The steering wheel, which was created particularly for the GT Track Series in partnership with Cube Controls' sim racing expertise, offers a broad range of adjustments and multiple control options. The pedals are also adjustable and may be tailored to the rider's specific needs.
Keeping in mind the exclusivity of the car, a price tag of 369,000 Eur0s (Rs 4 crore) just seems very suitable.
Also Read:
Mercedes Benz India to hike up prices of vehicles by 3 percent from April 1
Mercedes Maybach S-class launched at Rs 2.5 crore (ex-showroom)