Mercedes-AMG GT 63S 4-door reclaims Nurburgring record title
The most powerful Mercedes-AMG sedan in production, the GT 63S 4-door, is once again the fastest luxury car at the Nurburgring, with a lap time of 7 min 27.8 sec, exactly two seconds quicker than the Porsche Panamera Turbo S which had only recently ousted its record-laptime from 2018. The 2021 model year Panamera Turbo S had set a 7 min 29.8 sec lap in September this year, pipping the AMG's lap by 0.3 seconds. The 2021 model year Mercedes-AMG GT 63S 4-door carries minute revisions to its suspension setup and electronics, together contributing to its elastokinematic characteristics, which are attributed to the new record lap time. Also, given the distrust around records at the moment, AMG is quick to point out that the new record lap has been measured and notarised, by experts wige Solutions.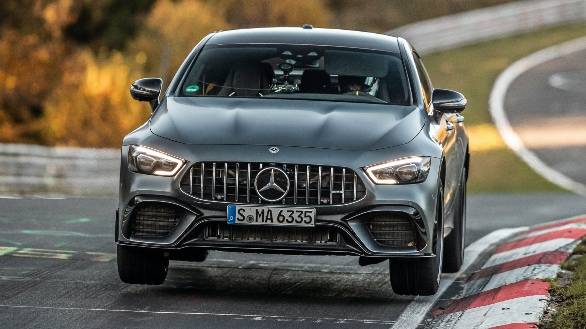 Piloted by AMG development engineer and former race driver, Demian Schaffert, the GT 63S was in stock form, with factory-fitted Michelin Pilot Sport Cup 2 tyres and the optional aero-package, which adds a beefier front splitter and additional air deflectors on the bumper, a fixed carbon fibre wing and more aggressive rear diffuser. It's the same configuration that the record-setting car was in when it originally set the lap time in 2018. The GT 63S has the ubiquitous Mercedes-AMG 4-litre twin-turbo V8 under the hood, tuned to produce 639PS and 900Nm torque, its highest rated application for any AMG sedan from factory, only beaten by the AMG GT R Black Series' extreme 720PS and 850Nm torque.
Demian Schaffert, AMG development engineer, with the record-setting Mercedes-AMG GT 63S 4-door
The previous range-topped of the AMG GT range, the GT R Pro, has set a 'Ring lap time of 7 min 4.6 sec, for reference, being a lighter two-door coupe driving the rear-wheels only. On the other hand, the GT R Black Series was estimated to have smashed the previous 'Ring production car lap record set by the Lamborghini Aventador SVJ, which lapped the 20.3km long circuit in 6 min 44.9 sec in 2018, though official confirmation from AMG is yet to be received. Bragging rights for the quickest production car, or quickest luxury car as the case may be, may even seem superfluous but as far as marketing taglines go, nothing else says quite so much, as succinctly.
Watch the record-lap run here: 
Price (Ex-Delhi)
Starts Rs 4.78 Crore
Price (Ex-Delhi)
Starts Rs 2.27 Crore
Price (Ex-Delhi)
Starts Rs 1.45 Crore