Mercedes-AMG G63 6x6 inspires the BAIC BJ80 6x6 in China, showcased at Auto China 2018
"Imitation is the sincerest form of flattery". And that is what the Mercedes-AMG G63 6x6 would feel about its Chinese rip-off. The monstrous Mercedes-AMG G63 6x6 features somewhere in the top of our vehicles to buy list for its gigantic proportions and beast of a motor. Guess all of that inspired Chinese automobile company BAIC to develop the BJ80 6x6 that was recently showcased at the Beijing Motor show aka Auto China 2018.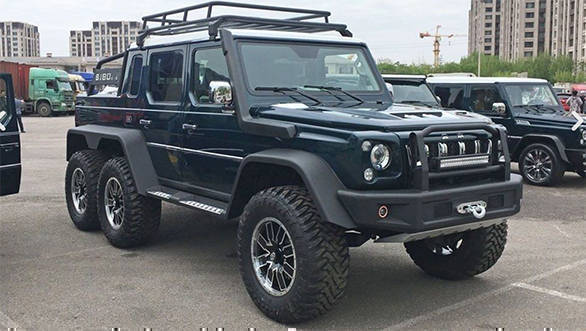 Even though the front grille of the BAIC BJ80 6x6 looks like that on the Suzuki Jimny, the overall proportions look identical to that of the 6x6 AMG
BAIC Motor Corporation has been selling the BJ80 that looks unmistakably like the G-Class. In fact, the side profile images of the BAIC BJ80 looks identical to the G-Class. And now the company has gone ahead and made a 6x6 version of it, needless to say taking inspiration from the 6x6 AMG that was revealed in 2011. Powering the Merc is an AMG 5.5-litre V8 bi-turbo engine that makes 550PS and generates an impressive 760Nm, paired with a 7-speed automatic transmission. While BAIC's engineers replicated the design, they seemed to go easy in the technical specifications. The BAIC BJ80 6x6 employs a 2.3-liter turbocharged inline-4 that puts out 250PS of power. We just hope both these vehicles never engage in a tug of war, else, we believe, the AMG will happily haul the BAIC BJ80 6x6 facing the opposite direction.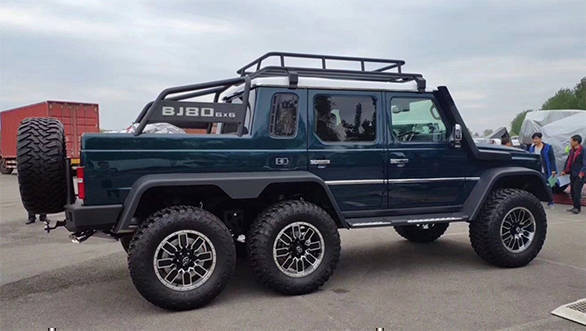 The BJ6x6 comes with a 250PS 2.3-liter turbocharged inline-4
Before you write off BAIC Motor Corporation as just another Chinese automobile company, it should be known that BAIC is a parent company to Beijing Benz, a company that assembles and manufactures the Mercedes-Benz E-Class (long wheelbase), C-Class and also the GLC SUV in China. We do agree that the BAIC BJ80 6x6 SUV does look the part, irrespective of its true potential.
Images source: motorauthority.com
Price (Ex-Delhi)
Starts Rs 63.6 Lakhs