Mercedes-AMG C63 S E Performance makes global debut with hybrid powertrain
Mercedes-AMG has finally pulled off the wraps to unveil the new Mercedes-AMG C63 S E Performance. The 'E' in the name indicates that the c63 no longer features a V8 under the hood but instead a 2.0 litre inline 4 with an electric motor strapped onto it.
Mercedes-AMG C63 S E Performance: Powertrain and Performance
Let's straight up address the elephant in the room. Gone are the days of the 4.0-litre twin-turbo V8 and welcome to the 4-cylinder motor. With a 204 PS electric motor located in the back axle and a 476 PS 2-litre inline-four turbo-petrol engine, the C63 S now has a combined power of 680 PS. Approximately 200 PS more than before! We suppose that this is the A45 S's engine.
However, Merc has made several adjustments to ensure that this engine captures the enchantment of the earlier V8. To begin with, the turbocharger is bigger than the one in the A45 and has electronic assistance to reduce turbo lag. The additional boost is also always provided whenever it is needed by the electric motor in the back axle.
The acceleration from 0 to 100 kmph takes 3.4 seconds, while the highest speed is limited to 280 km/h. Another thing to keep in mind is that this automobile has all-wheel drive rather than rear-wheel drive like the prior model had. So, those launches ought to be better with the new vehicle, and don't worry - the C63 has a "Drift" mode if you want to swerve about.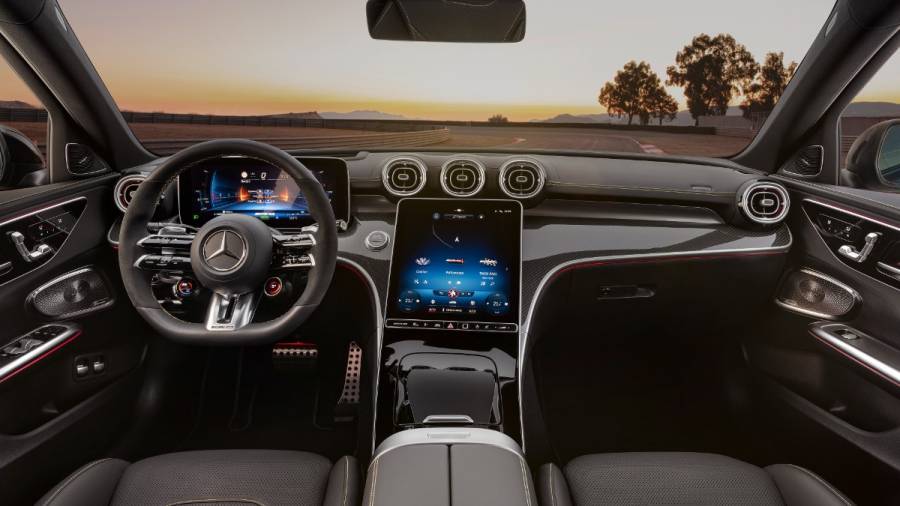 The hybrid engine, however, is not just about performance. The new C63 S's 6.1kWh battery pack, which can be charged using a wallbox charger, allows it to go 13 km (according to claims) in electric mode.
Mercedes-AMG C63 S E Performance: Design
The body of the C63 has undergone substantial modifications, particularly the front end. In comparison to the standard C-class, it is wider, longer, and even has a larger wheelbase. This model's status is denoted visually by an air vent on the front bonnet and by the rear spoiler. The hood now features a distinctive coat of arms for AMG.
The chassis has undergone considerable modifications to accommodate the C63 S's weight and power. For more agility at slower speeds and greater stability at higher speeds, rear-wheel steering is always available.
Sport seats, an AMG-specific steering wheel, and displays are included inside for that extra level of attention to detail.
Mercedes-AMG C63 S E Performance: India launch and Competitors
The Mercedes-AMG C63 S E Performance will surely make it to the Indian shores next year. When it debuts, it will compete with the BMW M4 and the Audi RS5 Sportback.
Also Read:
Pre-bookings for the Mercedes-EQS 580 4MATIC commence at Rs 25 lakh
2022 Mercedes-AMG EQS 53 review - real speed, synthesised drama